Posts Tagged movies
Academy Award winning director of Harvie Krumpet, Adam Elliot talks to Design Federation about his new film, Mary and Max
In association with our friends at Dendy Films, Design Federation is giving our readers the chance to win one of five double passes to see Un Secret during the Advanced Screening Weekend.
The film recently screened at the French Film Festival where it sold out multiple sessions and additional screenings were actually added to the program due to sheer popular demand.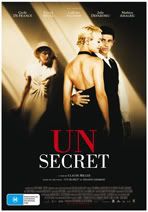 Un Secret
Adapted by Claude Miller from Philippe Grimbert's autobiographical novel, this is a splendid and moving saga of a Jewish family in post-war Paris, told through the eyes of a frail & intelligent young boy who senses something is amiss with his beautiful parents (Cécile De France & Patrick Bruel). (more…)
ACMI is the Australian Centre for the Moving Image
From the wonders of more than a century of cinema, to television, computer games and the screen-based art of the future, ACMI is the place to find out everything about the moving image.
World leading and state-of-the-art, the Australian Centre for the Moving Image (ACMI) celebrates, champions and explores the moving image in all its forms – film, television, games, new media and art.