Posts Tagged Chrissie Ianssen
Chrissie Ianssens latest exhibition 'Once Was A Field' opens this week on the ever spooky Friday the 13th, so we decided to ask her a few questions before the big event about Art and everything in between.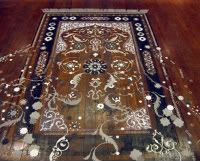 Le Fil (the thread) is an exhibition of new work at Gaffa Gallery organised by Sydney based artist Kath Fries.
The exhibition brings together twelve visual artists who adopt and deconstruct materials, processes and designs commonly associated with the textile industry.
Participating artists include Hannah Bertram, Linden Braye, Sophia Egarchos, Kath Fries, Michelle Heldon, Sahar Hosseinabadi, Chrissie Ianssen, Shannon Johnson, Michele Morcos, Jade Pegler, Megan Yeo and Melinda Young.
31 July – 11 August 2009
Exhibition opening: Thursday 30th July 2009, 6-8pm
Live performance: 7:00pm
Gaffa, 1/7 Randle St, Surry Hills NSW 2010
Gallery hours: Mon-Sat 12-6pm. Phone 9281 2203
www.lefil-exhibition.blogspot.com