Kandos – quirky, country Kandos. Not your obvious host for a biannual Australian contemporary arts festival. Previous claims to fame have been the hotrod show and the now-defunct cement works.  But on February 2nd this post-industrial NSW township played host to a flock of artists who swooped upon the quiet village's two pubs, wide streets and quaint churches for the much-hyped inaugural Cementa_13.
Delivered at the door of the pub, like the blow-ins we were, by the coach that passes through but once a day; my intrepid travelling companion and I were determined to see what the fuss was all about (and were relieved to be out of soggy Sydney for the weekend).
Venturing up Angus St, the stately artery of the town, it was clear Kandos was under seige. The wide and tidy street was utterly claimed by the visiting artists who had flocked to town for the four days of the festival. Many of the participating artists had sojourned in Kandos for a spell on residencies arranged by the festival directors. A smattering of art groupies and COFA hipster-typed buzzed around, excitedly ducking in and out of the shop-fronts to inspect the exhibitions. We were greeted first by a gallery of light installations and the good folk of Orana Arts who were strong supporters of the festival (and instrumental in helping the whole endeavour get underway) so far, so normal.
The story goes that Sydney artists Alex Wisser and Georgie Pollard hatched the Cementa scheme last year over a few glasses of red wine with their friend, arts writer and aesthete Anne Finnegan. The upshot of their efforts was $60,000 funding from Arts NSW and the passionate involvement of forty artists in the contemporary art festival which delivered more outlandish action to Kandos in one long weekend than anything it had seen since its infamous cement works had shut down in 2011 (or  – quite possibly – ever).
The Art Life partnered with Cementa_13 to help promote the event and run a series of pub talks during the festival. Co-founder of this great blog and ABC1 show, Andrew Frost, presided over a trio of participating artists partaking in a lacklustre discussion held at the public bar of the Railway Hotel. Perched on straw-coloured chairs against a muted Van Gogh-blue wall, the star of this first talk was undoubtedly David Capra, whose ability to articulate his artistic intentions with good humour and a twinkle in his eye redeemed the lagging conversation of his fellow panellists. Despite David's candid retellings of madcap chases at Ashfield station and confessions of a lifetime member of The Wizard of Oz fanclub, my travelling companion fell asleep in the chair and had to retreat to our motel before things really got going.
Carrie Miller chaired the next talk which had more meat on its bones. She encouraged a lively discussion from panellists Ann Finnegan, Diego Bonetto and Ian Mills who examined socially engaging art. The chat was spirited and intellectual, putting forward ideas such as the "parasitic" art world from Mills, or this from Bonetto when talking about the role of the artist as a cultural worker – 'With all due respect,' he said with European flair, 'you have to talk to people, get on the radio, get on the TV, talk to the newspapers; you have to do more than just paint a pretty picture…with all due respect."
Finnegan persisted with her vision for a transformed Kandos which she hoped, enlivened by the Cementa festival, could be a thriving cultural hub which engages the Kandonese and boosts local industry. Wisser made a cameo when he seized the microphone at question time and told a most passionate, tangent-riddled tale of local artists, Afghani poppy-fields and Kantian ideologies. They wound up in firm agreement that the major evidence of collaborative, community engaged art was the festival itself and thanked the town for allowing them to stage it. 'Kandos, you are Cementa,' they declared to applause.
A taste for the ludicrous was necessary for the full enjoyment of the festival. All the more because the artists themselves seemed not to notice the striking incongruity of their lofty concepts having turned the village into an exploded white cube, alongside the working-class Kandos citizens trying to go about their day to day.
David Capra would parade down the street, a vision of a knight in white satin, performing his Ministry of Handshakes with an extended arm of over 2 meters thrust in the bewildered faces of locals and festival-goers, alike. His serene smile belied the baffling mischief of his performance. Ian Mills's Welcome to Kandos poster was a tongue-in-cheek vision of the town's future, which one visitor pondered over – 'Oh, are there botanical gardens here? I had no idea!' – apparently unaware that the advertisement was a work of parody and fiction set 100 years in the future.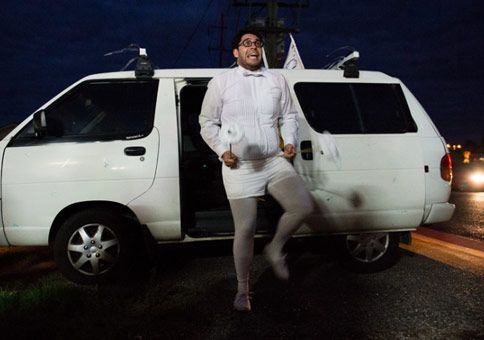 Thinking an authentic Japanese tea ceremony – the program said a Wabi-sabi Tea Ceremony was taking place in the afternoon – would be the fortification my travel companion needed after a  nap, we toured uptown by foot to the very base of the cliff-face which looms over the Kandos settlement. We squinted up at vast nature for a brief moment, the insignificant gnats that we were in the shadow of this immense stone wall, and with a shrug embarked onwards to find some caffeinated zen. What we found, once we waded past the enthralled crowd, was Sarah Goffman's teahouse. The blurb in the program had mentioned 'with an Australian twist', this transpired to be Sarah, grinning infectiously among her old and new friends (one of which I quickly, albeit briefly, became) sharing a bowl of tea and Iced Vovos generously squirted with whipped cream from a can. After the shock of this we sought fortification in the form of beer.
The evening's entertainment was a highly experimental sound show, the prospect of which thoroughly titillated the avant gard audience as we waiting for it to begin. Quite possibly a preposterous way to spend the night with my hearing-impaired comrade but we turned up nonetheless. The severe concentration of the assembled swarm of bohemians tickled the corners of our lips, as we sat letting the sound art hammer at our heads. My partner in crime's flitting eyes searched the throng for some clue into Mark Brown's amplified esoteric scratching and tapping noises (if you didn't have hearing problems before the show, well…); struggling to understand why nobody else was amused, apparently enthralled by the racket.
Braced for the second act my sidekick and I breathed an audible sigh of relief when, like an angel strumming his harp, Jon Hunter  appeared with his Fender and Stratacaster guitars. He coaxed out of this pair a hypnotic love dance which I suggested was 'guitar sex' but my companion preferred 'instrumental intimacy'. In a musical mating call, he manipulated the guitars, facing each other like tango partners, with one hand holding each. The sounds were ancient, Celtic chords or the sweet clang of some tribal lament. It carried on until they were straddling each other on a chair in a clumsy yet gorgeous sounding crescendo. Sound odd? It was but it worked.
When the copper-wire DJ came on to fry our brains out of our skulls it was time to call it a night.
Early morning saw us blinking the sleep from our eyes with a gathered crowd as we awaited Diego Bonetto's Wild Possibilities, or How To Make Money By Selling You What You Own Already. He performed a clownish investigation into Kandos' native flora which came over like commedia dell'arte meets Burke's Backyard. He sold paper bags of willow sticks for $1 each to the participatory crowd (we purchased a dose which he claimed worked like aspirin to mend the lingering headache from the evening before) then he shut up his 'pop-up shop' and marched on to the next location.
Cigdem Aydemir sat reading a New Idea in the shop window of Cuts and Colours, up the main road, with her burka stretched over a retro hair dryer as part of her wonderful  'Muslim Hair Drying' performance piece.  We posed distractingly in-front of her for iPhone photos and attracted a bit of a crowd.  Life starts to imitate at these events apparently, and we started to consider ourselves as much a part of the exhibit as we are spectators.
My travelling companion thanked me for the unusual experience but did also comment that it may take a while to complete recovery from the ordeal. I wonder if the Kandonese share these sentiments?
Director, Alex Wisser reported after the carnival was over, that "the artists really appreciated being able to talk to non arts people about art and the locals, while many remained skeptical, still they had a go and engaged." He said that one of his favorite quotes from the Kandos community was a remark that an elderly local shared with one of the participating artists, "I don't like what they make but I like their ideas."  As Alex commented, "For a contemporary artist, this is the highest of praise."
But what a perfect way to enjoy the absolute edge of the weird, wacky and wonderful world of contemporary art; sucking in gorgeously fresh air and enjoying country hospitality! It was zany, but who needs another jam and tea cosy festival? Certainly not the Australian art scene, and definitely not country NSW. What we do need is Cementa and with enough support, Cementa_14 will be something the whole Australian art community can look forward to.
The artists might have been able to take themselves a bit less seriously and the locals didn't have to be so sardonic but as Marie Trounson, manageress of The Fairways Motel sagely spake, 'It takes all sorts.'  Viva Cementa!
All photos courtesy of Alex Wisser @AlexWisser