I've written before about the fact that I'm a closet steampunk sympathiser. I have travelled to Oamaru, NZ – capital of steampunk in the southern hemisphere – to pose for Facebook pics with oversized busts of Queen Victoria, and bid on eBay for all manner of corsetry, bustles and eye-glasses. For the uninitiated, steampunk is a postmodern aesthetic which loosely defined, looks like a mash-up of science fiction cyberpunk and Victoriana. Though, alas, this scruffy sub-culture so rarely has its day and is so scarcely done right.
That's why John Galea's steampunk adaptation of The Tempest at this year's Sydney Fringe Festival was such a delight. The contemporary recreation does plenty for Shakespeare and more for steampunk than anything I've seen to date. The costuming was a spectacular of glittering burlesque corsets, aviator goggles, eyeglasses and Victorian safari suits. Elizabeth Elwell-Cook  of Notable Design Solutions designed the 18 costumes with Jasmine Leong.
Shakespeare's enchanted island vividly came alive through Karl Cook's props. He had ray guns and clock gears, glowing orbs and clackety memory machines. Set construction was by Ben Paynter who gave us flashing oversized bulbs synced with the action onstage, huge golden cogs and one mysterious portal in the centre of the stage, which opened and shut with movable cogs, and provided a portal from the ship before it is dashed, dramatic entrances and magical revelations.
Refashioned as a techno-wizard, Prospero played by Dominic McDonald gripped the audience with his grand scheme. Lana Kershaw delivered the perfect softness to his rage and fury, as Miranda. Though McDonald's character was multi-faceted and intelligent, this paired with his velvety voice delivering riveting soliloquies, had the audience won over from the opening scene. The rest of the crew were solid in their delivery and wonderfully attired as the confused and shipwrecked colonialists struggling to make sense of the bewitched charms of the island.
Notable mention goes to the ghost in the machine, Ariel, played by Christopher Hawkins. He was the fragile, dear fairy who served Prospero's sometimes doubtful missions faithfully and Galea artfully created magic with the sprite through mixed media, often with Ariel speaking (or singing his lines) through snowy television screen static or on the overhead speakers. This broke up the dialogue and gave him an other-worldly sense (though I must admit to being anxious that the real players had timed themselves well enough that pre-recorded dialogue wouldn't cut them off, but that's just me being a nervous ninny…and it only happened once.)
The Tempest ran as part of the Sydney Fringe Festival from the August 29-September 8 at Sidetrack Theatre, Marrickville with rumours abound that it may resurface next year at Steamfest in Queensland (eeeep!)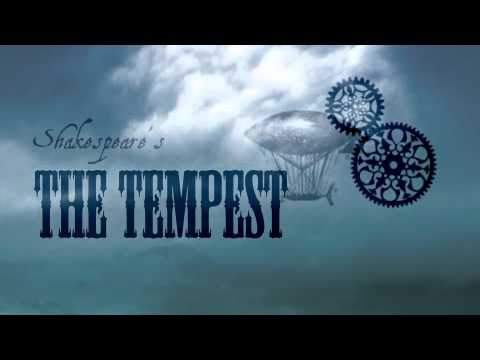 The Tempest – Steampunked!
Director/Producer: John Galea
Stage Manager: Jessica Pantano
Assistant Stage Manager: Manda Bottomley
Stagehands: Bernadette Galea, Grace Rouvray, Lisa Hansens
Associate Producer: Erica McCalman
Marketing: Kylee Hartman
Choreography: Hannah Courtney
Lighting Designer: Michael Schell
Production Designer: John Galea
Sound & Music: Victor Spiegel
Dramaturgy and Vocal Coaching: Anna Kamaralli
Costumes: Elizabeth Elwell Cook
Costume Assistants: Jasmine Leong, Tanya Woodland, Kim Hartford, Jonathan Hindmarsh, Dominic McDonald, Cassie Murray
Set construction and Electrical effects: Ben Paynter, Karl Cook, Matt Lansdown, Dij Dijor, Dr. Tony Valentich,
Electrical safety consultant: Rob McMahon
Prop design and construction: Karl Cook, John Galea, Griffin Picard,
Cinematographer: Aytac Turkay
Audiovisual support: Chris Davies
Assistant Stage Managers: Bernadette Galea, Manda Bottomley