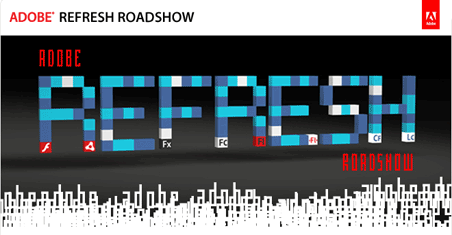 I have just finished an exhausting day in Brisbane at the Adobe Refresh Road show. As a designer and regular user of Adobe products, it was a great opportunity for designers and developers to rub shoulders and try to see things from each other's point of view. As presenter Mark Schultz pointed out "no one is ever trained to use Facebook. Designers and developers need to work together to make the user experience intuitive".
The majority of the day was spent pushing Flash 5 and reassuring everyone that Flash was not dead. As an iPhone, and soon to be iPad user, at the start of the day I was sceptical, and there were many veiled references throughout the presentations to Apple's unwillingness to support their free Flash player. Several attendees were Twittering throughout the day and as I made reference to this on Twitter, @funkygorilla pointed out that "Adobe are trying to keep their tech forward. New way is HTML5, CSS3 and svg. Standards based! Apple are doing it right! #refresh10". Good point, but still frustrating. I wonder if this debate will ever be resolved, but by the end of the day, I was convinced Flash still had a future, even without Apple device support, for lots of other reasons.
The main highlight of the day was being shown elements of CS4 that I wasn't aware of, and judging by the buzzing around me, neither was anyone else. Apparently, you can slice a Photoshop file, run it through Fireworks (which still remains unopened on my computer since I installed CS4) and export out the HTML files, complete with Divs and HTML text, plus a CSS file. Wow. If that's true it certainly makes up for the loss of ImageReady! I'll be experimenting with that one on the weekend and showing several tearful students next week no doubt. Another trick to try is dumping a wide range of file types: .indd, .ai, .pdf, .swf, .jpg etc into a "portfolio" in Adobe Acrobat Pro and exporting it as a very fancy PDF indeed. This is quite the time saver because you don't need to prep the individual files, plus it's an impressive way to send files to a client. I also like the idea of adding .swf files to existing PDFs. Just draw a media box anywhere on the page and chuck it in. Awesome. I see a great future for media rich eBooks with embedded animations and videos, especially with Flash Player 10's massive file compression.
In terms of new features, there was a lot of demonstration of Flash 5 in its beta phase. Other than the ability to author iPhone apps, nothing really impressed me though. Features such as auto code complete, pre-written code snippets and TLF text (using the InDesign type engine) are well entrenched in Dreamweaver already so I was a little surprised Flash didn't have these features in CS4, but the row of geek boys in front of me were very excited about these announcements, and I guess that's all that matters. The buzz on Twitter though, was that Adobe had just fixed a bunch of stuff that was wrong with Flash 4 and not really introduced anything new.
Other highlights of the day were the AIR authoring demo, Flash Catalyst and as I mentioned before, the ability to author iPhone apps from within Flash 5. As far as I could tell, the way Adobe is choosing to move forward is towards less coding for designers, (yay) convergence and re-purposing of existing technologies, and an ability to author for multiple platforms at the push of a button—all aiming for a rich, intuitive user experience. Sounds good to me!
Article by Dominique Falla