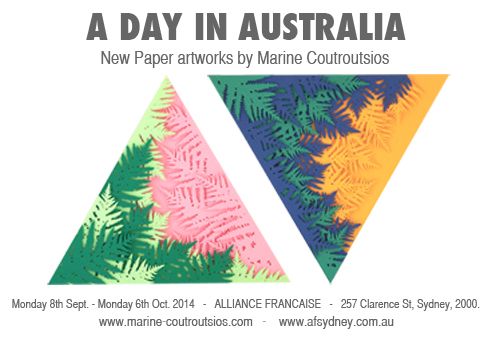 A day in Australia celebrates the natural beauty of Australia. This exhibition showcases a new series of Paper artworks inspired by Marine Coutroutsios's walks in the forests of Australia. These Paper cuts are her own interpretation of seeing the sky from beneath the shadows of the ferns. Each artwork from this series has different colour scheme echoing a different time of day. "My work is all about aesthetic, I play with representative and abstract designs offering more than one possible way of interpretation to trigger your imagination. I wish to uplift and bring an optimistic and colourful energy as well as a sense of wonder".
Her popular series inspired by Australian Birds will be also exhibited for those who missed her latest show.
Marine Coutroutsios is a French artist living in Sydney since 2012. She makes Paper Art using scalpel and scissors and creates installations and sculptures for her personal art practice alongside commissions for commercial illustrations and paper installations.
8th September – 6th October
Alliance Française
257 Clarence Street, Sydney.
Opening hours :
Mon-Thu : 9am – 6.45pm
Fri : 9am – 4.45pm
Sat : 8.30am – 2.30pm