The animated documentary Waltz With Bashir has been receiving accolades from across the globe. We talk to the film's Director of Animation, Yoni Goodman, about this very loaded project.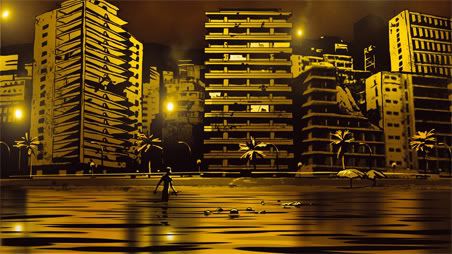 What is your name and where are you located?
Yoni Goodman, Hertzeliya, Israel.
Where did you learn your craft?
I began my career as an Illustrator and graphic designer for two of Israel's biggest newspapers. Afterwards I studied in the department of visual communication in Bezalel academy of arts and design, Jerusalem. on my second year I took animation as a main course and haven't stopped making it since.
Whose work do you relate to most? Who inspires you?
Everything Brad bird does. Everything Bill Plympton does. All of Kubrick's works, except maybe "eyes wide shut", (but maybe that was because of Tom Cruise) I think "Full Metal Jacket" was a very important movie for Ari and myself, when working on "Waltz with Bashir".
I was effected all sorts of movies, live and animation, short and long. so many effected me it's hard to know where to start.
When were you approached to work on the film, did you have any hesitations and was it challenging due to its subject nature?
Ari Folman approached David and myself after we finished another project for him, "the material that love is made of". it was a 5 episode documentary series in which we had to do 2-3 minutes of crazy and quite bloody cartoon animation in the beginning of each chapter. We had such good chemistry with Ari on that project, that afterwards he came to us and said, "I have this vision on a movie about my service in Lebanon, and now I know how to do it". I have to say that even though an animation production of that magnitude is virtually impossible in Israel (the first and only full length Israeli animation feature before us was created in 1962 by the now-Australian Yoram Gross), I had absolutely no second thoughts or hesitations. probably because I knew that Ari was Insane enough to pull this through. The challenges, both of the subject and of the practicality of creating this project were the reasons I knew this is a project I had to do.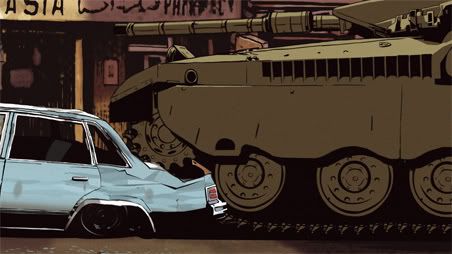 How long was the animation process and how many people worked on the animation?
The animation process took 2-2.5 years. We began with six animators (including myself) and got up to 10 animators (Tal Gadon and Gali Edelbaum (my chief animators), Neta Holtzer, Osi Wald (who was also in charge of most of the 3d in the movie), Sefi Gayego, Orit Shimon, Lilach Sarid, Zohar Schahar and Barak Drori). David had a crew of 3 illustrators (Tomer and Asaf hanuka, Michael Faust) but basically drew 80% of the movie by himself. An additional and important part of David's crew was Yaara Buchman, who broke every illustration into thousands of pieces so we could move them.
Apart from the animation and design crews were Yael Nahlieli, our strangely sane and fearless producer (who pretty much kept us going). Nilli Feller ,our editor, who was in the project from the early edited live footage till the very end of the process. Aviv aldema, our sound designer.
In the visual effects department, making all the smoke and explosions (plenty of that) were Roiy Nitzan, aided in the last stages of the project by Meirav Miselevich.
So, the whole crew consisted of about 25 people more or less.
What animation techniques did you employ to create such vivid imagery?
We used a Flash cutouts animation technique specially designed for this project for all parts of the animation, sometimes slightly adding traditional animation to the process. we also used very few shots using 3d, but only for camera movements and such. There was absolutely no Rotoscope animation throughout the entire project. Every time someone mentions rotoscope I get angry calls from my animators in the middle of the night.
What has been the response to the film in Israel?
The response was quite amazing in Israel. We weren't sure how people would react to a "grown up" animation movie, and always though this was to be an art movie with little response from audience that don't normally go to such movies, and also thought some people would regard it as a left wing movie and won't go see it, but we had fantastic reviews from critics and audience as well. People really related to the subject and saw past the politics, because this is really a movie about the traumas of war, and that has no political side. I heard many people with war traumas were really effected by this movie. It's funny, almost everywhere we go abroad people always ask if the Israeli government didn't try to pull the plug on the movie, and we have to explain that they can't do that even if they wanted to, and we were actually partly financed by Israel's film funds.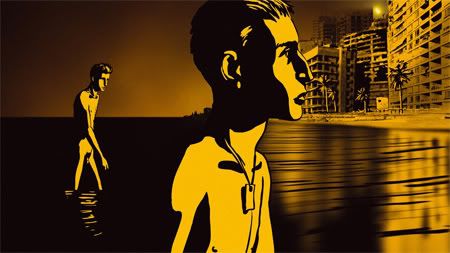 What are you currently working on?
Our next project will be "The Futurological Congress" based on a book by Stanislaw Lem. Ari is currently getting finance and writing the script, so if all goes well we'll probably start production in a year and a half from now. We are also possibly working on a post epocaliptic TV series called "The Atom Family".
Star wars: The Clone wars – great or garbage?
The movie didn't come to Israel yet so I can't really say, but judging from the trailer I have to say it's not my prefered type of movie.