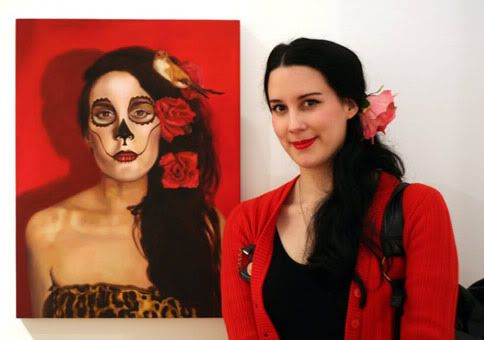 Walking through Ruby Chew's Adelaide is like following the Queen of Hearts through her Wonderland. As we pass a vintage shop she likes, she uncurls her arm in a fling, like a burlesque dancer unburdening herself of a gratuitous item of clothing, "You should really check it out, they have the loveliest things upstairs," and throws another arm around a beaming friend who we bump into in the street, "Well hey, you!"  As she leads our motley crew to dinner at her favourite Chinese joint in the CBD's Gouger St she notices a long line-up out the front of the restaurant. Turning smartly on her heel, she instructs us to follow her to BBQ City instead and with a note of finality announces, "Oh, it's just the same."
I won't lie, it's all great fun. She's exactly as though the turning girl in her self-portrait "Ruby" has spun full way around and stepped out of the frame. The carnival of colour that radiates from the flat planes in her oil paintings is apparent in the lick of geisha-red lipstick against her alabaster skin.  The bubbling ease with which she kicks off our conversation explains why the subjects of her graduate collection, Talking to Strangers, so happily played along. An oversized rose holds back a roller-curled lock of her hair, 1940's pin-up girl style, hinting at a taste for quirky costuming also evident in her portraiture, and suggests a respect for a classical aesthetic.
Having just finished four years at the reputable and somewhat classically-inclined, Adelaide Central School of Art (ACSA), the buzz is swelling around the 22 years old artist and she is capably poised to make the most of it.
Bam!
Her exhibition is something of a departure from the traditional style ACSA is known to focus on. But she argues that the post-modern masquerade captured by her theatrical oil paintings, is countered by the watercolours and charcoal sketches (also part of the collection) which are more in keeping with a classical school and are more suggestive of the renaissance artists she references.
In a damask wallpapered pocket-bar presided over by a rockabilly barman, she leans over her tall cocktail and shares her charm, "I'm fully aware of the commerciality of my work, but I honestly don't think about that when I'm working. I'm just trying to express the inner-dialogues within people in my art… I feel really happy with what I'm doing because I feel I have hit on such a rich subject."
After topping South Australia in Visual Arts four years ago, Chew went on to secure a scholarship with the prestigious Adelaide Central School of Art in the bohemian suburb of Norwood. In a class of just seven other students, she received close mentorship and flourished despite being youngest in the group, "Most of the students had kids my age… so it was pretty daunting."  I nod, of course, but then it's hard to imagine Chew daunted.
In her first year of study, the founder of the school,  Rod Taylor, took an interest in Chew's development as an artist. Upon his retirement at the end of her second year, he offered to mentor her creatively and has guided the young artists development ever since.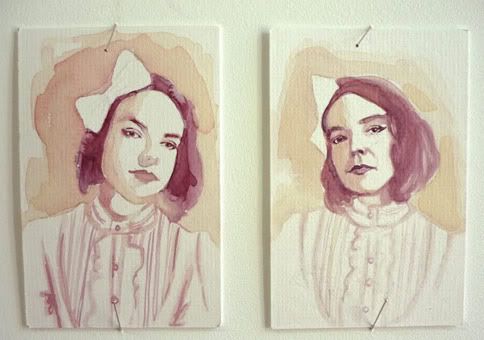 "The statistics for visual arts graduates sustaining a career are, unfortunately, very bad throughout the Western World. One estimate from a study in the UK – but relevant in OZ – put the number of graduates who were still professionally practicing 5 years after graduation at only 2%," he says. "Because I both like and have some faith in Ruby, I agreed to assist her – be a mentor – to help her get through these early, crucial years."
Taylor's sobering maths isn't anything radically new for most art students who are acutely aware of the dismal market prospects. But, we're talking about young creatives here, dreamers by definition. Every private art or design college knows the magical resilience these creatures have to being told it can't be done.
Not that anyone's telling Chew that she can't. An impressive majority of her 52 watercolours pieces and 7 oil paintings featured in Talking to Strangers, were sold by the show's end, not to mention the 5 that were selected for the prestigious Helpmann Academy Graduate Exhibition, a showcase of South Australia's best art school graduates, on this month. Nonetheless, she seems to be well aware of the pitfalls that can derail promising talent in the aftermath of art school and is determined to maintain forward momentum.  "I organise all the media coverage myself," she mentions as we trot at pace along the street, and it's easy to imagine all her theatrical confidence translating into sharp business savvy.
She enthusiastically chatters away about her exhaustive plans for 2011, which include her debut solo exhibition at Magazine Gallery in July. As well as further involvement with a female artist group, The Fräuleins, art teaching opportunities, grant applications, private commissions and showing her work in the newly opened Espionage Gallery. She has no intention of becoming a statistic.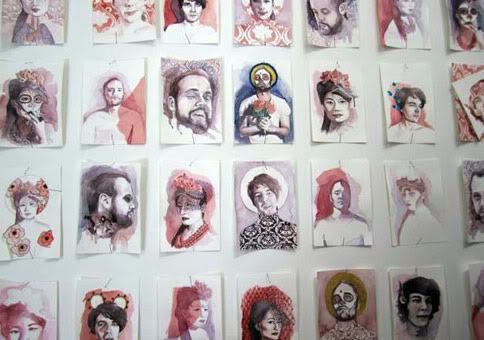 Kapow!
We land in a sunken hideyhole off the maid drag, Hindley St, where she's treated like royalty among the pretty-faced twinks behind the bar. "I've been the only female working behind the bar here for a while… but I really like to play it up sometimes with cool outfits."  Pulling beers in the hipster haven these last couple of years has seen her forge friendships with other creatives, and helped her find her muses. She introduced me to a couple of the characters that featured in her work and I remark on the way some of her depictions jazz them up a fair bit, "I try to heighten the presence of my sitters in my work… the portraits express their potential."
It's easy to forgive the barflies, the creepy admirers that perve from lonely stools and vintage-sporting hipsters who flock around her like a playground ringleader, for being a little in love with the charismatic creature. Her vintage style tips its hatinator to burlesque, haute couture and swing dance, an interest she makes no excuses for, "I'm very interested in the influence of fashion on my work. I am inspired by Prada and Chanel, pop-culture references like Andy Warhol and street art. Everything from Japanese harujuko girls to make-up tutorials on YouTube."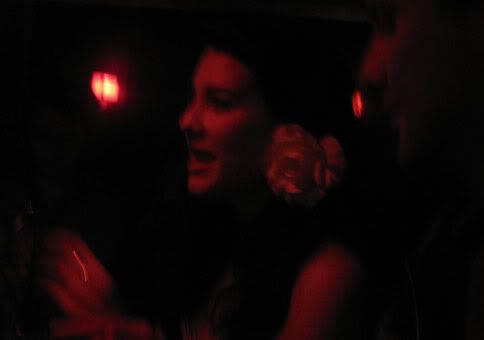 Her one dread is that her career will be dogged with headlines that exploit her surname in a ghastly pun, "Imagine,"  she shudders, "something like 'Chewing the Fat With Ruby Chew'."
It's disturbingly difficult to control the temptation to wordplay with her Chinese last name, so I suspect she will have to learn to live with the witless one-liners. Her grandfather was born in former Canton and was brought out as a very young child during the Victorian goldrush at the beginning of the 20th century. There is ever so slight a touch of the Asiatic exotica of her heritage in her jet black coiffure and her dreamy pools of chocolate for eyes, but alongside the bowerbird collection of other eclectic influences, it just becomes another twig in a plush nest.
If she isn't already looming large on your radar, don't miss this blip. Ruby Chew is a storm in a tea cup and Adelaide can't keep this rose a secret for much longer.
By Estelle Pigot