The Refugee Art Project Exhibition 'fear+hope' launches Monday 20th June at the Mori Gallery in Sydney, so we decided to sit down with Safdar Ahmed & Anton Pulvirenti and ask them all about the project and the exhibition
How did the Refugee Art Project begin?
Safdar: Anton and I both come from a fine arts background. We met and became friends at art school, in the year after I had finished high school, and have always shared a passion for talking and thinking about art. Last year I was speaking to a friend (the co-founder of this project, Dr Omid Tofighian) about refugee issues and it then occurred to us that an art exhibition might be a great vehicle for understanding the position of refugees in Australia. We started to visit the Villawood detention centre for art classes shortly thereafter, and Anton soon joined us to assume a teaching role. 
Anton: My involvement began with an invitation from Safdar to join the project. As a long time friend, he was well acquainted with my art practice. He was also aware of the thesis I am completing at The Sydney College of the Arts on my grandfather's internment at Loveday camp during the Second World War in South Australia. He thought that going inside Villawood would help me shed light on my grandfather's experience in Loveday of which little is known.
How did you meet artists inside the Villawood detention centre and who are they?
Anton: Safdar had already met some artists. I knew no-one on my first visit. I sat simply sat down, commenced a portrait, and soon made new friends! The artists are predominantly from Afghanistan, Sri Lanka, Iran and Iraq. They have all escaped some form of religious or political persecution.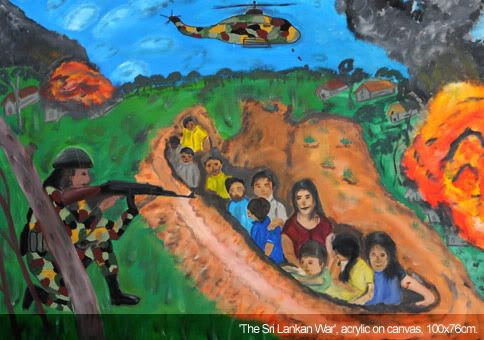 What distinguishes the art of refugees from that of other groups of people, and what is the role of art amongst asylum seekers living in detention?
Anton: The role of art is often cathartic. It may serve to excoriate trauma and feelings of helplessness, hopelessness and frustration often felt by the detained refugee.  It is also escapist- one can use it to temporarily 'free' oneself from detention. It occupies the mind. This is particularly important as someone who is mentally and physically active while in the camp is far more likely to survive detention than someone who is inactive for whatever reason. We saw this with POW's in the camps of the Second World War- those who remained busy survived longer.
Safdar: Much of the art that has come from our classes reflects upon the common experiences of people who have been forced to flee their homes through circumstances of war and persecution. Thus, we do have images of war and oppression. And yet, most of the works in our exhibition convey an enormous sense of dignity and hope. The practice of art for many asylum seekers in detention is an affirmation of their will to survive and to be recognised as dignified self-respecting human beings, above whatever the media and our politicians have said about them.
What are the political implications of making art inside Australian detention centres?
Anton: The main thing is that we are trying to give refugees a voice. Refugees in detention experience very little privacy. Their rooms are frequently searched by the authorities, and SERCO are very restrictive with what the refugees can and cannot do inside the centre. Refugees are not allowed to talk to the media, so entering the centre and making art that is then taken outside makes the authorities very uncomfortable. Because the 'refugee issue' peddled by the media is divisive and politically explosive, the authorities do not like them to talk to the media. The exhibition enables refugees a voice outside of the media. We want the art to speak directly to the public and on its own terms. We are facilitators, not teachers.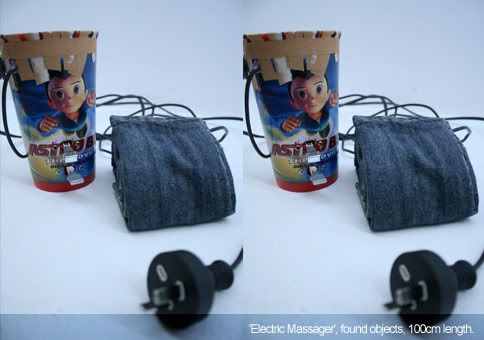 What themes are most common in the art of asylum seekers?
Safdar: The art that we receive can be grouped into three main thematic categories. First, there are works that describe what it is like to be a refugee. In this group we have memory drawings of people's homes, the things that have forced them to flee their country, and the journey they undertook in order to find a safe country such as Australia. Second, there are works that reflect or comment upon the detention environment in which they currently find themselves. In this category one may find artworks that employ the materials available within the detention centre and other works which comment upon the experience of detainment. Lastly, there are works that seem to imagine what it might be like to be an Australian citizen. These are very interesting because they sometimes employ famous Australian symbols, such as the kangaroo and the Sydney Opera House, and reflect the attempts of refugees to project themselves forward as soon-to-be Australians.
What parallels do you see between the work of asylum seekers and 'outsider art'?
Anton: The term 'outsider art' was coined by an art critic in the early seventies. It described art produced by people outside art official art channels and who were marginalized in some way. It was intended as a synonym for the French term 'Art Brut', or raw or ugly art. That term was coined by the French artist Jean Dubuffet in relation to the art of inmates of psychiatric institutions. I believe the art of asylum seekers can be thought of as 'outsider' in that it is produced outside mainstream culture. It is made by people who have no voice in society and are frequently untrained. It is also similar in that detention centres verge on being mental institutions- the art is sometimes made by people suffering from extreme depression brought on by the circumstances of indefinite detention. That is if they can make art at all under the oppressive atmosphere of the camp and worry over their cases and families back home.
How does the art of asylum seekers reflect the detention centre environment?
Anton: The art will reflect the oppressive atmosphere of detention. It will do this in a number of ways. It may include certain imagery- restraining ropes, handcuffs, brick walls and the like. It may reflect the environment through the use of materials. One artist collects rubbish and glues it to pieces of found cardboard. Another artist has used food to make sculptures from spaghetti. Yet another artist, who had no paints, painted in watered down instant coffee. This reflects the restrictions and hardships endured by refugees.
Safdar: Yes, it is fascinating to see someone take objects from their immediate environment and transform it into a breathtaking new work. One of my favourite pieces is a massage machine that contains a motor sown into a strap made from a pair of old jeans. The strap is to be placed around a person's arm or leg, and at the turn of a switch the motor inside will vibrate—there are two levels of vibration depending on the preference of the user! This work was made from an old dvd player and with homemade tools (because detainees are generally not allowed to have tools such as screwdrivers and hammers). I think it shows a level of concentration and resourcefulness that is difficult for free people to imagine.
What has been the public's response to the works in your exhibition?
Anton: Very positive and encouraging. We will have to wait and see until after the exhibition to see what people really think, but if responses up until now have been so positive, I'd expect that to be even more so after the public have seen what the refugees are capable of.
Related Links