Tiny vignettes of the everyday, cut out of plastic scraps and slipped on your fingers. Take a look at these strange little things that we can't help but covet. Recently featured on Design Quarterly's blog, Ong is a graduate architect at Melbourne studio, Andrew Maynard Studioand has formed his own studio MODO to produce these quirky accessories.We take peel away the layers of laser-cut artist, Michael Ong.
Introduce Yourself!
Name: Michael Ong
Occupation: Graduate Architect/Thing Maker
Location: Melbourne
Website: www.m-o-d-o.com
www.maynardarchitects.com
Tell us a little bit about your work:
I have always been quite fascinating with instructions manuals and how things are assembled or broken, which probably explains my love for the laser cutter, because really you are just creating your own jigsaw puzzle, which you then cut and put together. Narrative – if I had to describe my work or what I hope my work contains it would be a narrative, but not a narrative that I created, but a story that the viewer creates or develops. I like to play with simplicity and iconography, which is in my Godzilla ring or strong archetypes which is in my house ring. Simple things, which you can then create your own story, and make it your own.
Were you formally trained in art?
Well my grandfather was a Chinese Calligrapher back in Vietnam, from what I understand he was quiet good at it, but it was more of a hobby rather than a career. Under the influence of my grandfather, my father went to study Chinese Art and Calligraphy, he has been practicing for as long as I can remember, which also means I can't remember a time when our living room was not covered in a drop cloth with paint splatters everywhere for more than 2 weeks.
Growing up and watching my dad paint every weekend in the living room, really lead me to where I am now, and now, it still sits quietly in my mind. He is starting to do more work in China thesedays, so he owns less of the living room now, which mean when I am over, I can clean the dust off my Sega Mega Drive.
How did you get into laser cutting and what can you tell people about the craft?
It all started at uni – Melbourne University just got their first laser cutter.
At the time I was sharing a studio space with a bunch of friends and we all noticed the amount of waste involved in laser cutting.
Depending on the geometry of the objects, and how you would lay them out on the cutter, there'd always be left-over material, and most of the time they'd be too small to be cut into architectural model parts.
So we started to fill the wasted space with other stuff: glasses, coasters, card holders and a few of us did rings (mostly because they were small enough to fit between any other objects).
I would produce a few new rings every time I used the laser cutter, which quickly became more exciting than the model I was building.
About the craft? Well unlike other crafts the laser cutter requires a different approach. For example with painting, you have a canvas and then you start drawing, adding colours and applying different strokes, each time, you are adding a layer and another step to the painting, and working towards the finished art piece. This process gives you an immediate feedback and is allows you to sort of feel your way through it. Using the laser cutter is quite different, you don't get that instant feedback, the making of the object and the final object is somewhat detached from each other, which for me means you really have to plan and think through the design at a very early stage, and this is great! It allows you to really focus on how it will be assembled and how you can really develop it and embellish it before even making one cut, this in combination with the laser cutters ability to be super accurate and intricate makes for a really interesting process – and sometimes something cool might come from it.
What influences or inspiration do you draw upon?
This is a hard one. Well the honest answer is probably other designers, artist, writers, music, movies, posters, internet, toys (yeah definitely toys), games, museums and really I guess anything. I think its important to observe, look, seek and find out what gets you going and what doesn't and that becomes a library of influences, experience and inspiration that you 'draw' out.
When will they be hitting the shops and what shops will we be able to find them in?
Things are starting to move a little quicker now, which is pretty exciting, the prototyping is getting closer to quality we are hoping to achieve. We are also experimenting with a few different materials and moulding methods. Its is hard to say when these will be ready, but our we are aiming early second half of this year.
Where do these itty bitty houses come from?
Well before the house ring, I designed the ring with the dining table and a couple about to get into there dinner, which I really liked because it had a nice level of intricacy. However this also made the ring very delicate and being extremely clumsy, I would find that after one day wearing the ring I would be left with 2 headless figures and a table of broken bottles and lamps. So I guess since I was studying architecture at the time, I decided to construct a tiny house for Harry and Sally (the couple), and now Harry and Sally are protected and have their heads firmly planted on their shoulders.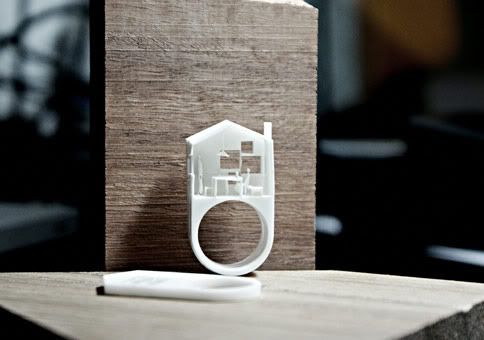 Wearing a multilayer house on my finger looks uncomfortable (albeit, pretty cool) , is it?
Surprisingly its pretty comfortable, however it can get in the way of a 'pull my finger' joke.
Will the range expand? What will it include?
Short answer is yes. To what will it include, well you just have to wait and see, but I will say it won't be just rings.