Lachlan Philpott's work Truck Stop will be featured in this year's National Play Festival, so we decided to ask him a few questions.. let's hope our grammar is correct and he doesn't send us to the back of the class!
How did Truck Stop come to feature in the 2012 National Play Festival?
I submitted the play for the festival and it was selected. I'm excited that it will be read as part of the MKA Red Eye Special.
What inspired you to write Truck Stop, and what do you hope the audience will take away from it?
Truck Stop is a play about three young women and the choices they make at a pivotal time in their adolescence. It was inspired by a story I heard from a teacher about an incident where a couple of year 9 girls prostituted themselves to truck drivers during their recess breaks at school.  The school was next to a highway and it was easy for the girls to slip out unnoticed. This business lasted for some time until one truckie came across the girls and informed the school.
Funnily enough, I first started talking about the story with director Noel Jordan at the PWA National Script Conference in Brisbane in 2009 when we were working my play SILENT DISCO, which is for a similar audience. We agreed that the story presented some meaty issues and he encouraged me to turn it into a play.
And I think it is an important play right now because we live in a time where many seem to have forgotten or be in denial about feminism. Pole dancing has become an exercise craze, raunch culture and pornography are difficult to avoid and sexting is a new part of foreplay. I wanted the play to explore the story of what these girls did through the frame of such times.
There is a long history and enduring fascination of stories about sex workers in film and theatre. As a kid I remember being obsessed with this B grade film; " Angel-High School Honor Student By Day. Hollywood Hooker By Night." My mother caught me watching it and made me put on the ABC to watch All Creatures Great and Small but James Harriet and his animals did not offer such illicit stimulus. This play offers a perspective on sexuality and gender roles and provokes questions about who takes responsibility for teenage sexual health.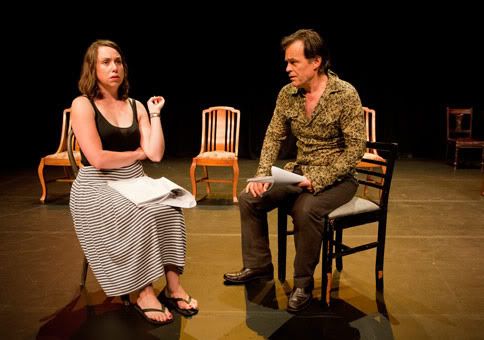 Artistic Director of PlayWriting Australia, Dr. Chris Mead, delivered a speech at the launch of the 2012 National Play Festival which addressed the question, "Why are playwrights so important?" What is your personal response to this question?
Chris is a wonderful leader. He has done a huge amount to advance the playwrights' plight through PWA and in the other leadership roles he has held. His contribution to developing and refining new work is massive and his advocacy is endless. I am sure when he says this question will be addressed that his heart is in the right place.
But in reality how can that question get addressed when so few playwrights are even able to afford to attend the event? In the absence of writers, who gets to decide the answer?
Perhaps if this event were about getting as many playwrights together in one place as possible, addressing this question might be possible. But the absence of playwrights at the event is another indicator of how much Australian playwrights struggle.
Many Australian Theatre companies demonstrate little interest in new work, a lack of expertise in developing it so it gets produced, lack of respect for repertoire, and they don't seem to know what to do with writers. Running a competition [even if you do actually award the prize or stage the work] is not enough.
Some Theatre companies might need to honestly answer the question Chris poses because the impression you get from their programming is that  playwrights are not so important.
When you look at how many mid career writers give up or leave Australia and how many plays get just one production you can see how hard keep playwrights resilience can be.
If playwrights are so important why are they not even represented in category in The Prime Minister's Literary Awards? Don't we matter as much as poets and novelists?
We are like some exotic species close to extinction. People like to think we are important but thinking it isn't enough to save us.
Whose work would you recommend for emerging writers to study and why?
Everyone's. See and read as much as you can. Binge! And if you copy, as we all do from time to time, acknowledge your 'influences'.
What is most helpful to you as you sit down to write a first draft?
I do a significant amount of research before a first draft. This is not about sitting in the library as much as it is about finding out all I can about the world of the play and how the people in that world exist.
For Truck Stop I interviewed school kids, sexual health workers, cops, sex workers and truckies. I sat in Westfield food court after school for a week, I parked my car by the side of the highway and listened to CB radio until I was shocked revolted and bored and I listened to a huge amount of chart music. I even ended up at a Ke$ha concert which was terrifyingly inspirational.
Then when it all settled into my head a bit, I started writing.
Which changes would you like to see take place in Australian theatre, and are there any current trends you passionately disagree with?
I think I might have already discussed this a bit.
If theatre is going to survive I think we need radical change. The first thing is we need to actually encourage people in the industry to say what they think, not just reviewers, but everyone. Without fear of not being programmed or commissioned or invited to the Christmas party.
Our culture here is weakened by people too scared to be honest about stuff. Being honest isn't being mean, it is about asking questions and having conversation about work in order to understand and refine it and pollenate our practice.
I can only speak with any real clarity about Sydney's current scene which is becoming sadly predictable. Subscription seasons and patterns of programming seems prosaic, wasteful and transparently draped in the aesthetic priorities and self interest of those in charge.
While the city has some exciting stuff going on there's an obsession with playing Capital of Australia which can often be to the detriment of local artists. Few companies demonstrate committed follow through when it comes to supporting or sustaining local writers or generating practice which might result in a distinct Sydney-centred or inspired culture.
Instead we copy Berlin or New York or Melbourne.
Parts of the industry here have come to feel like some arty warehouse party in the inner city with selective invitations and some kooky punch sat in the corner that everyone has to keep sculling in order to avoid noticing the huge group of excluded people staring through the cracks in on the other side of the warehouse wall.
And then there is the current obsession funding bodies have with emerging artists which has now has spread to theatre companies. Everyone is running something for emerging this and emerging that which in itself is terrific except there is little acknowledgement of difficulties of post emergence and failure to support or fund more established or mid career artists.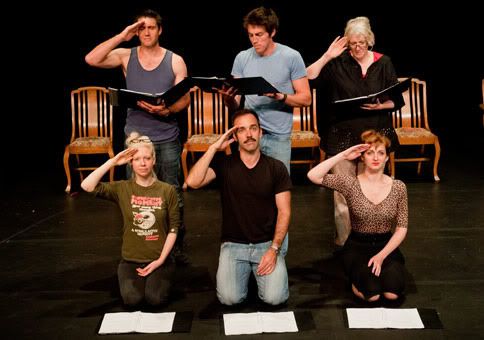 What's next for you?
Truck Stop goes to stage in May at Q Penrith and The Seymour Centre in June.
Screen Australia has funded the screen adaptation of Silent Disco.
I am working on commissions for atyp and Brisbane Girls Grammar and am also creating an alien play with a collective of cool artists.
The Australia Council Literature Board and CAL have supported me to go to The USA for 5 months this year to write and examine different models of play development at key organizations on the west and east coast.
related links
www.nationalplayfestival.org.au