The Crew at Design Federation have a love of Graf, so when our Parisian correspondent P.I spotted Australian artist Kamion doing his magic in Paris, we just had to interview him. 'Clicka Clacka! Clicka clacka, clicka clacka! Take a spray can and slap a wack rapper.'
How did you get into Design/ Graf?
I've always been into design / art and had been a big fan of graf, or urban / contemporary art as some people know it these days.
Finished a Bachelor of design studies a few years ago now, and have since then worked in the graphics / design industry, which has fuelled my personal artworks. Street work came about the opposite to most graf artists, where these days well established graf artists are moving into the galleries.
What draws you to aerosol art over other art forms?
I like painting with cans because within the space of a half a day or a couple of hours I can have something up, and people are exposed to it. They get to have an opinion about the piece straight away. There isn't any background work needed to get your work out there to the public.
How precious are you with your street artwork knowing that it could be anywhere from minutes to weeks before someone else comes and paints over the work or tags on it?
Precious, ha.
Its all good, I go into most pieces knowing that it will not be up for long, as the walls around here in Paris are quite liberal / legal and there are always dudes passing through the city who want to have a paint. But saying that when painting, I'm always trying to get the piece to a stage where i'm happy with it, and satisfied with what I have created.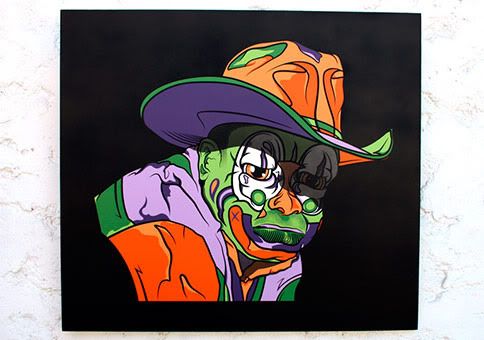 What's the Parisian Graf scene like compared to The Australian one?
Being a Sydney boy, I can't truly comment on the whole Oz scene, but what I can say from that point of view, is that Paris is a much happier? place to paint.
Sure you get people coming up to you in Syd and saying g'day and nice job. But here in Paris that seems to be anyone for the school kids to the grand parents, coming up and watching for a while, taking some pics, etc. The Parisians appreciate the work that the street artists do here more.
And further to that, a lot of the current French hip-hop is heavily influenced by American hip-hop, does that cross over to the Graffiti?
I'm going to have to listen to more French hip-hop.
Is it possible to earn a living doing Graf or are the legit paid jobs rare?
If your good enough, there are dudes out there making a living off graf. For a beginner pretty much like me, painting on the street is just  another medium to get my work and images out there.
A couple of my favourite artists making a living from street work include Nychos from The Weird crew, and ROA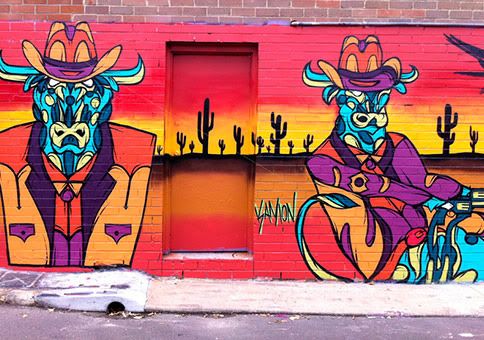 Do you see walls as things that divide (people or places) or an opportunity to paint on?
I definitely see walls as something that bring people together. They give people a place to meet, socialise, or just hang.
I'll take an awesome piece on a wall, over a plain besa block any day! As long as someone has put the effort in and its not just some throw up or tag.
Nas titled his 8th album "hiphop is dead", do you think Graf will ever die?
Graf will never die, Its been going since the stone age. With all the new technologies in paint coming out, graf is only going to get stronger and more mind blowing.
Have you seen much of the 'Space Invader" Art around paris?
Every second corner you turn around, if you look hard enough you will more than likely see a Space Invader piece. I think i'm up to a couple of thousand points, or I should be if I was keeping track.
Are French Hipsters the hippest of them all?
French hipsters, ha, its almost a dead heat between them and the Londoners. The only difference would be that one drinks ale's and the other drinks vino.
Banksy or Blek le Rat?
Tough, Blek le Rat, he's the pioneer.
related links