Photographers might grow on trees, but the good ones are few and far between. Daniel Boud, longtime photoblogger and current Chief Photographer for Time Out Sydney shows us why
What is your name and where are you based?
I'm Daniel Boud and live in Surry Hills, Sydney, Australia.
Where did you learn your craft?
On the mean streets of Sydney. I've had no formal training, except one short course in lighting at ACP.
I just bought a camera and snapped everything i could. I'd shoot my friends, i'd take the camera out with me all the time. I love live music so i started shooting gigs. I would shoot my mates when we were out on the town and that lead to published work taking social snaps.
Bands i'd photographed live asked if i would take their press photos and that lead to practice taking portraits under studio light.
I read a lot on the internet and would ask questions of other photographers.
What motivates/inspires your work?
It's a compulsion. I just love taking pictures. It's a real rush if you nail a good photo. And i get terribly miserable if i feel my work's been mediocre.
I love shooting people in an unselfconscious state. When they're unaware of the camera, in a moment of emotion or concentration.
Why Photography?
Why not? It feels like second nature and i'm shit at everything else creative. I feel very comfortable with a camera in my hands. It indulges my inner voyeur.
There are so many "photographers" these days who can only use lightroom with a 300 filter, but their photos have no substance to begin with, how do you get your photos looking so damn good?
Good photos need good subject material. If you just take a million photos of your cat then that gets tired pretty quick. So choosing interesting things to shoot is an important first step.
I also think good editing is important. Not editing in the photoshop sense – but in being able to cull your work down to the best photo.
Taking 200 shots and working out which single frame is the best.
When photographing music, what's it like having a backstage pass and being right between the crowd and the artist?
It's awesome – it's the best spot in the venue. You're right at the feet of the artists – seeing every nuance of their performance. Plus you have the enthusiastic front row of punters behind you – which is always energising. It's also nice to have some space. I'm over being squashed in sweaty mosh pits.
People or objects?
People. No doubt. A main reason i love photographing is that i get to meet so many fascinating people. The conversations i have with photo subjects are usually more memorable to me than the pictures i take.
Whose work do you relate to most? Who inspires you?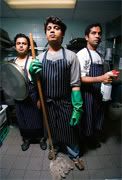 My work is pretty varied i guess so i admire different photographers for different styles.
On the live shooting front Matt Booy is probably my favourite snapper. There's also a number of shooters i know who work for NME whose work is top notch. Folks like Danny North.
Anton Corbijn seemed to shoot most of my favourite bands while i was growing up – so he's still a favourite.
I never went to art school or anything like that – so my favourite photographers are often people whose work i discover online or in magazines.
I love Flickr and follow the work of lots of talented people on there.
Here's some of my favourite photos.
Have you ever had to photograph someone you didn't particularly like. And if so ,how hard is to be professional in those circumstances?
The vast majority of people i shoot are very charming and we get on great. Occasionally i shoot people who are difficult and rude. I'm always polite and friendly and if i don't get that in return i just rush through the shoot as quick as i can.
Can you let us in on any trade secrets?
No secrets, just commonsense. Be passionate about what you don't be a dickhead. Don't wait for people to offer you work – create personal projects. Just practice all the time.
related links