Over the last twenty years Hossein Valamanesh has become established as one of Australia's best-known contemporary artists, and we talked to him about his involvement with The Rug Project
Can you tell us a little bit about how you will go about designing the rug, and what restrictions there are on the design.
In my usual practice I am not a designer as such, however, when I was approached to design a rug I felt that some of my existing works on paper could be translated into a rug design. After looking at a number of options we came to the decision of using the work 'Crazing' which is made of stems of the maiden hair fern plant. The original work is approx 14cm diameter.
What does one have to take into consideration when designing a rug as opposed to more traditional methods of design such as painting and photography?
This process happened in collaboration with the designers at Designer Rug company who were most helpful and since my design was very simple we came to agreements quickly.
Have you talked to any of the other designers participating in the project or worked with any of them before?
No, unfortunately I haven't had the opportunity although I do know some of the other designers.
You have been here since 1973, do you feel Australian, and how much do you miss Iran?
In earlier times I did miss Iran a lot but I'm very well settled here and feel like part of this place. I still love to visit Iran when I get the opportunity.
Whose work do you relate to most? Who inspires you?
Although there are many artists whose work I like a lot, my work is more inspired by nature than other artists work.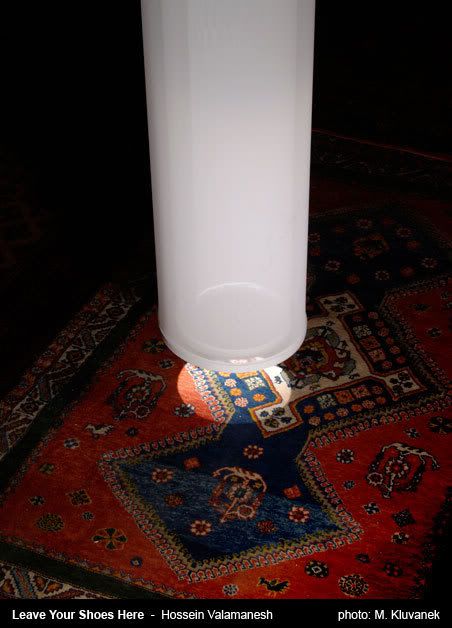 Who are some of your favourite Iranian film makers?
There are many but they would certainly include Kiorastami.
Favourite poets/authors?
As far as inspiration for my work I could mention 13th century Rumi.
And finally
Why are Persian rug stores always closing down ?
No idea, maybe we should all buy more Persian rugs! I've tried my best by using Persian rugs a number of times in my installation work,
Related Links