Katerina Roth recently caught up with her friend and animator George Metaxas about the art of movement.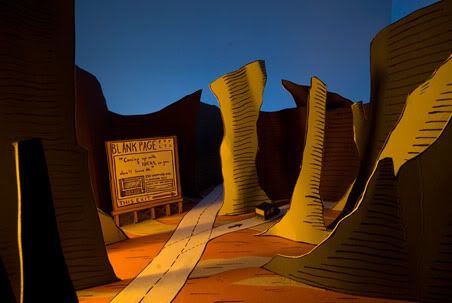 What is your name and where are you located?
My name is George and I can be found with a stanley knife in my hand.
What is your artistic medium of choice?
Its stop-motion animation, and more specifically taking pictures of cardboard and paper, a lot of pictures of a lot of cardboard and paper.
The idea came from my own fear of connecting with a blank piece of paper, the fear of my creative potential, fear of time and just starting the whole process. As i had not animated a character before, i wanted the animation to have both a character and journey narrative. The journey narrative would encapsulate my love of architecture and the non-built environment. When formulating the story, the blank page as a character came naturally. The contents of my desk would become a city, the blank page only a small building amongst others.
Have you always been focused in this particular area?
No, i've trained and worked as an architect before this animation. I quit my job to take on the task of completing my first animation.  I do love architecture, but the way animation can capture life and movement intrigues me far more.
Where did you learn your craft?
In my apartment, where my bedroom became both my workshop and photographic studio.  Thankfully my couch was comfortable enough to sleep on for 4 months.
What inspires you?
Dave Avanzino's multimedia works. I admire how his art work has a hand drawn nature, but still retains a 3 dimensional feel by the way he uses layering and shadows.  Also Looney Tunes, especially Chuck Jones' shorts have been really influential throughout my life. He had an amazing talent for drawing out the foregone conclusion while always being true to the characters.
Do you enjoy collaboration work?
I love it, I wouldn't get where I did without it. Collaboration helps you realise when you have a really good idea, and also a really bad one.
If you weren't an artist/designer what would you be doing?
I would probably be a really bad musician.
Can you let us in on any trade secrets?
Blue tack can save the world.  It can hold just about anything together and its amazingly temporary with no lasting effects.
UPDATE ………………….
George Metaxas has been accepted into Cal Arts (California Institute of the Arts) Masters of Experimental Animation for his blank page submission.