At the recent RAW event in Parramatta, we got a chance to see the delightful and slightly spooky work of Gillie and Debbie (known as "Geebs") and wanted to know a bit more about their crazy world…
Tell us about yourselves…
We are Gillie and Debbie, a couple living and working together here in Sydney, we were always very united by several common themes from skate and watching the same bands playing. When we met we found we had the same passion for art, graffiti, cartoons, photography, tattoo and, yeah of course, creepy stuff. That's when we started to paint together throughout our hometown in Brazil (Porto Alegre) and have done it since then. We used to spend afternoons drawing and painting … normal couples like to walk around and go to the movies, eating popcorn … we use to like cut stencils, paint our skulls on newspapers sheets and sticking them out on the city centre…
We like to do many different things at the same time. We spent the last five years working on projects for feature film animation and we divided our spare time between tattoo, graffiti, handmade crafts, exhibitions, illustration and any other project that seemed like a good idea. Yes, we are crazy, and from all this craziness born Geebs!
Now we are in the Northern Beaches paradise, settling down in Sydney and enjoying the beach life style! And we're loving it!
Explain your design style and who influences you?
It's hard to explain, since you have been influenced by so many different things, but somehow, we put it all together when we're creating. Basically, our main influence comes from graffiti style and tattoo designs, but it all started a long time before we had contact with these universes … we're both addicted to cartoon animation and horror movies since when we were kids, and when we started to paint together this all came to the fore. We could name some great artists that have a huge influence in our style as Tim Burton, Ed "Big Daddy" Roth, the Brazilian tattooist Marcio Duarte and the classic cartoons from the American studio called "UPA".
How did you get involved with RAW?
Well, we have this shop called "Yukitten'me" where we sell our artwork online and at markets throughout Sydney. Elmedin Kumalic, one of the RAW directors liked our work, which he saw on Facebook, so he got in touch to invite us to be part of the showcase. We thought it was a really cool and interesting proposal so, there we were!
How was the RAW experience on the night?
We really didn't know what to expect, unfortunately, Gillie couldn't go with me so I was there by myself. It took a bit until everything settle in and get ready for the artists at the beginning, but then everything went well and the evening was very pleasant, I was able to meet many nice people and artists who welcomed our work with great admiration. Unfortunately I couldn't see everybody's work, but the place had a very positive energy and people were enjoying the event, the music was good and I hope the next is as cool as the first was!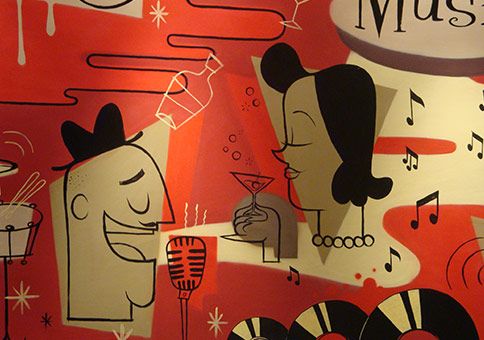 Tell us about the tattoo side of things, they have become quite popular in the last 10 years, has this helped business?
Yes, the tattoo has becoming increasingly popular nowadays, many people have access to good artists and good designs, which was quiet rare and limited 10 years ago. Social networks have allowed a huge evolution for the industry, promoting artists and different styles in real time to anyone without relying on reading a magazine or a book. People are becoming more demanding about the quality and creativity of the artists, they recognize one tattoo design and know how to differentiate it from the others, the consequence of that, of course, it's the increased demand, many people want to get a tattoo, collect tattoos, buy tattoo flash, even just to decorate their houses. Tattoo art has never been so popular like nowadays.
What is the art scene like in Brasil, and how does it differ from the scene in Australia?
Well, the scene in Brasil it's very strong and intense! As Brasil is a country of great wealth in popular culture, it's inevitable that artists arise as well as fruits grow on trees. We have a lot of cultural diversity, from great musicians, writers until urban artists, but the big problem in all of this, is that Brasil is still a third world country! No matter the quality of your work, or how good you can be, people don't have much money to invest or buy art because of poor living and unstable economy. This is the major difference between the Australian and Brazilian scene, despite the fact that the scene in there is vastly bigger! A good portion of the artists that stand out, have always greater recognition abroad, such as the graffiti writers "OsGemeos", they are a great example of how strong and unique is the Brazilian style of making art.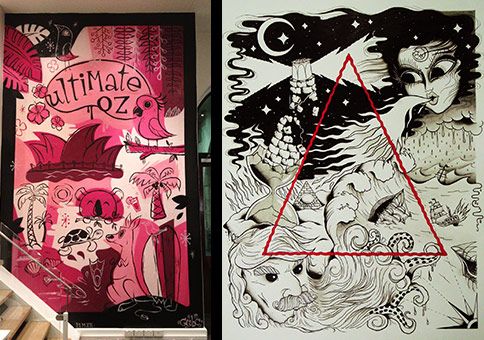 Are you excited about the world cup in brasil?
Definitely NOT! We're not really fans of football and seeing how many of Brasils problems are masked by this famous sport, so this doesn't allow us to even get a little excited. Unfortunately, for people who see Brasil from the outside, the World Cup seems as a good celebratory sport competition, but the fact is that Brasil is experiencing a period where people no longer tolerate corruption evident by the government. For the first time in many years, people have opened their eyes and gone to the streets screaming for change, and now, the World Cup is coming to shut everyone's mouth, put them in front of their respective television and keep everything as it was before. Easy, just like that. The last thing Brasil needs now is overpriced investment in football stadiums, but, of course, we can't change it, so… we're happy to be here at this time.
Bebel Gilberto is…
Is a singer! But honestly, we really never heard it, hehehe! We just know the she's relative of the great Chico Buarque, one of the old school singers of popular Brazilian music.
What's next on the horizon for you?
Palm trees and the sea? Hehehe joking, we're looking forward for having new experiences here and keep painting like a crazy couple! We have a lot of new projects and ideas in mind, ready to put into practice, and here seems to be the perfect place to make it work!
Where can we see some of your work?
We have this blog, it's still kind of under construction, but you can see our previous works and exhibitions there. And, of course, to check our new stuff, you can find us on Facebook and Instagram easily! Please check it out and don't be shy to contact us, even just to say hello! :)
Related Links
Blog: www.geebsroom.com
Facebook: geebs.art
Instagram: @geebsart
Online shop: etsy.com/shop/Yukittenme