The shrieking, squawking sounds of birdcry tend to be drowned out by the whir of sound in urban life, but one artist has stopped to hear the cries and unexpectedly discovered there's more to crows and seagulls than first imagined. She's also noticed that certain birds are no more birdbrained than certain people. Catherine Clover encourages DF to sit back and listen to nature's noisy symphony.
Introduce yourself to our readers…..
I am an artist and I produce audiovisual installations. I am originally from London but have been based in Melbourne since the mid 1990s.
How did you begin working with sound as a medium?
I did a course in electronic design and interactive media in the early 2000s and needed sounds for animations I was making. I became interested in making the soundtracks myself and through this my interest in sound as a distinct medium grew. Not knowing what kind of sound to explore, I just started listening and learning to listen consciously. This is how my interest in birds, and before that crickets and cicadas, evolved, from listening, everywhere and anywhere; not always recording, but always listening. I keep a kind of sound diary where I write down what I hear, and at this stage it's a bird diary where I transcribe what bird sounds I hear.
I also work with other media and often the exhibitions are installations and a mix of media. One component of birdbrain is an artist's book posing as a mock field guide to the calls of ravens that live in Coburg cemetery in Melbourne. It's a written recording of sound rather than a sound work and I'm interested in the idea of implied sound as much as actual sound.
You say on your website that your work is informed by "the everyday – the quotidian, the common" do you think this sets you apart as an artist?
No. Many artists find inspiration in the ordinary, what is on their doorstep or outside their window. I like this idea very much. I travel fairly regularly and I know that one person's ordinary is another person's extraordinary, which is a concept that I find stimulating. I like to work with material that people are familiar with.
Can you describe birdbrain as a concept and as an exhibition?
birdbrain looks at our relationship with urban crows/ravens and seagulls and explores our mixed relationship with these common noisy and highly intelligent birds through voice and language (animal/human), including the spoken and written word (human). While we admire these birds' obvious abilities in terms of survival, intelligence and ingenuity we also feel threatened by these very attributes that we share with them.
The project consists of audiovisual installation work including field recordings, bird mimicry, spoken and written texts as well as an artist's book posing as a kind of mock field guide. Four performers and ten writers have contributed to the project
Was birdbrain your idea? How did you arrive at it?
Yes, it's my idea and it grew from the research I am doing into common urban birds and our mixed relationship with them – we both love them and hate them. I have been looking at animal voice as a way of considering these birds. They are very sociable species and are often much more audible than visible so their voices are a big part of their make up. The title refers to the way we use animals as insults because we think animals are unintelligent. Language is often the factor we use to show that humans are more intelligent than other animals, but increasingly scientific research is showing us that birds have the same potential for language as humans. And many of these birds are common and ordinary – ravens, crows, starlings, pigeons and gulls. We have tended to judge animals by our own measurements of intelligence (which vary greatly anyway), but our frameworks are not relevant to them in their worlds. Scientific research into animal behaviour including comparative psychology and cognitive biology is currently a very active field and is a dynamic context for my creative interests.
What do you find inspiring about birdcalls?
Again, their ordinariness and commonness is inspiring. Most of us hear birdsong every day and if you listen closely the variety of sounds both within one bird's song and across species is astounding. I am interested in the abstract nature of their calls, the complex melodies and rhythms, the otherness and sameness of them.
I am also interested in how birdsong defines place and location. Not only do local species have particular songs that define the aural environment, but they also have specific accents and dialects according to place. Birds in cities adapt their songs to cope with noise by singing a louder and simpler version. Introduced birds pick up different aural influences and their songs differ from their brethren back in the homeland, just like humans. Birds are also important indicators of the ecological health of environments.
Why is birdbrain a collaborative work? Did you find it difficult to coordinate the collaborative aspects of this project?
Collaboration has been a natural progression that is evolving through the research. I haven't done a huge amount in the past but the research is increasingly taking me down this path. Ideas grow thick and fast when collaborating. It is harder in some ways than working alone, and can be confronting, but in turn the rewards are greater. I had already been working with a group of performers because I was interested in human mimicry of birdcalls and how effective mimicry might be for exploring the birds' voices and ideas about language.
I started rehearsing and recording with the performers without a particular exhibition in mind and their input was so rich that it was a heady experience and the resulting material helped me to plan specific projects easily.
Working with the writers has been different and more separate, partly because they are all based in different locations and the exchange has been mostly by email. They responded to the idea in their own time and then sent me their texts. The variety of responses has extended the project in many directions. The writers are from various disciplines (sound, anthropology, art, philosophy etc) and I was interested in their differing approaches to the same idea. For the installation, their texts have become audio works through recorded readings by the performers.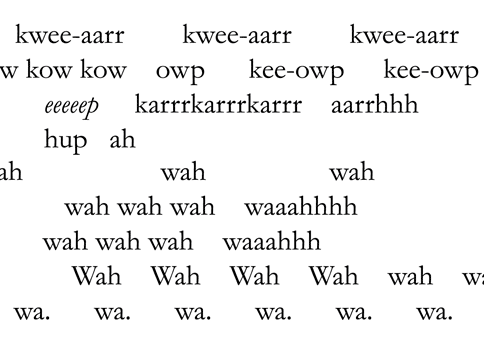 How would you like the audience to respond to your work?
I am sure the audience will surprise me. I set up a group of components and the audience puts it together in their minds and come up with a lot of different responses. There is a lot of space for interpretation in my work so it's always unpredictable, and I find audience response is important to use and build on for future works. I do hope some people feel tempted to vocalise and sound out some of the birdcalls, even to join in with the recorded mimicry. I exhibited some work at NSCAD University in Halifax Canada last year and the security staff were particularly responsive to the sonic properties of the phonetic words and readily sounded them whenever they passed through the exhibition. I would like to capture these kinds of responses in some way but they tend to be fleeting and ephemeral and often quite private and attempting to capture them may extinguish them altogether, so we'll see. I produced a mail art project a couple of years ago – billing and cooing – and the phonetic words that describe the sounds of pigeons singing were printed on the front and I know one acquaintance who tried to 'sing' the whole postcard on one out-breath every morning, like a kind of breathing or yoga practice.
With some of my works, my audience members are the birds themselves but it can be hard to pin down what they get out of it sometimes! There may be aspects of birdbrain that are directly for the birds but I'm not sure how that will develop until I spend some time in each gallery space during installation. In the summer, there tend to be more seagulls in London and more crows in Berlin, so this will influence any plans that emerge.
How is it that you are exhibiting birdbrain overseas (London and Berlin) and not here?
Do you really think this question needs to be asked? It betrays that same old Australian cultural cringe, which I always hope is fading from sight – I didn't expect it from you Estelle! Of course, it is important to get work seen in as many places as possible, and any artist wants to reach a wide audience. These two galleries are interested in my work and embraced this project, and Arts Victoria has funded it. The arts audience is far bigger in Europe so it is important to show there, and London is my home anyway so it is always in my sights for potential projects. As it happens, I show in Melbourne on a regular basis and this project will be exhibiting at Screenspace in Melbourne CBD in November.
Related Links