Academy Award winning director of Harvie Krumpet, Adam Elliot talks to Design Federation about his new film, Mary and Max
Tell us about your new film, Mary and Max. It's inspired by actual events, no?
All my films are based on people around me and with Mary and Max the story is based on a pen friendship I have had with my pen friend in New York for over twenty years. It is a black comedy for all ages.
Many of the characters in your films have some sort of physical and/or psychological disability. Why is this?
I never use the word disability – all my films are essentially about difference and the way we perceive ourselves and others. What I am trying to say is that everybody has a flaw of some variety and how some of us choose to hide our flaws and others embrace them.
What are some of the unique problems you face with stop motion, as opposed to other types of animation?
Unfortunately I have chosen an art form that is incredibly expensive and slow to produce. There were days I wish I was a cake decorator. I know I probably over quoted this, but making a stop motion feature is like making love and being stabbed to death at the same time.
My animation lecturer at uni described animation as 'acting for shy people' – what do you think of this description?
Absolutely! I myself am a very shy person and even though I don't animate any more, I wish I could go back to the old days where I was animating all alone in my shed, just me and my blobs of plasticine.
What was it like beating Disney and Pixar, when Harvie Krumpet took out the Oscar for best Animated Film?
At first I was embarrassed and then realised that we won because our story was stronger. I truly believe it has nothing to do with budgets or what studio the film came out of. At the end of the day it all comes down to a good story well told.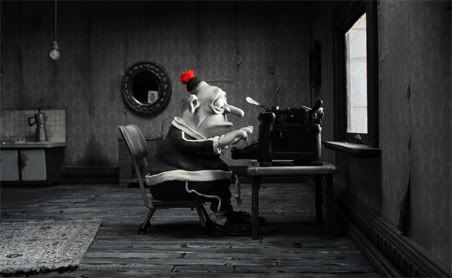 What are some of your favourite movies?
I'm not a big fan of most feature animation. I much prefer documentaries and films that explore darker and more authentic subject matter. I love the films of Mike Leigh and have to confess a bit of a David Lynch fanatic.
Apart from Animation, what other things are you into?
I love to draw, play with my piano and two pug dogs Barry and Kevin. I have a passion for portrait photography and love collecting books on the subject.
Related Links
ONLY AT THE MOVIES APRIL 9.