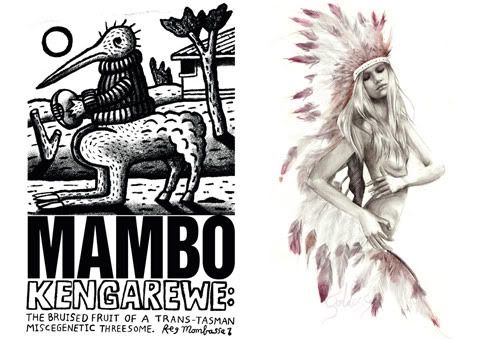 ARE YOU THE NEXT reg mombassa?
Legendary surf and street wear brand, Mambo has launched a search for hot Australian and international artists to have their art featured in the next Mambo collection. 
The competition begins on 1 October and is calling on all artists and creative minds to create and submit up to three original designs that would live up to the quirky, sometimes irreverent, Mambo signature and still look effortlessly cool on a t-shirt. 
Mambo was the world's first commercial labels to embrace the artist community and transfer their skills into machine washable art and humour. Among Mambo's many renowned artists are Robert Moore, Rich Allan, Reg Mombassa and Paul McNeil (NZ), Rocking Jelly Bean (Japan), Robert Jackson (USA), as well as hot current artists Kelly Smith, Josh Petherick, Kareena Zerefos and Josh Petherick. 
The winning artist (or artists) will have their artwork featured on clothing in a new Mambo collection, which will be available in stores over the coming 12 months. The winner will also take home a brand spanking new MacBook Pro plus the Mambo guys will set up their very own portfolio webpage. 
Head Designer for Mambo, Ben Noble is thrilled that a budding Australian designer or artist will have the chance to showcase their talent with such an internationally-iconic fashion brand. 
"I think the laid-back and creative Aussie culture is a natural fit with the Mambo personality. I'm looking forward to seeing how our love of the beach, summer and unique humour is incorporated into the designs." 
Ben is both an artist and designer who has worked with Mambo since 2008 overseeing the design of the Mambo ranges across a range of categories.
"Exposure can be the determining factor to succeed in this industry," says Ben. "The Mambo Australian Artist Search will recognise the talent of an artist and bring their work into the spotlight," concluded Ben. 
To enter the Mambo Global Artist Search, applicants should submit their artwork electronically in jpeg or PDF format along with a written submission or video as to why they feel they should be Mambo's hot new talent to entries@mamboartistsearch.com. Designs will be posted on the Mambo Facebook page (www.facebook.com/Mambo.Australia) for voters to pick their favourite artist.
The top finalists will be judged by Mambo, and include input from iconic artists including the highly acclaimed Kelly Smith and Ben Noble. 
The competition will be open from 1 to 30 October for all ages and the winner will be announced in early November. 
Mambo was recently acknowledged by British author Josh Sims in his book "Cult Street Wear" as one of the world's most influential brands of the past 20 years alongside Nike, Adidas, Stussy, and A bathing Ape. 
For more information on MAMBO, please visit www.mambo.com.au