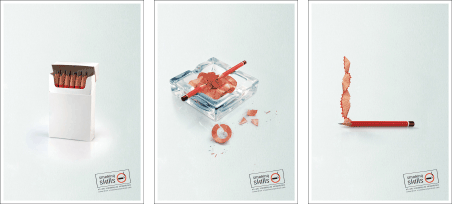 I'm not entirely sure what this campaign is about, (perhaps an Arabic speaking reader can let us know?) other than it being an anti-smoking campaign of sorts, but the concept is pretty neat, and executed well. View the larger versions here, here and here.
26.09.07 UPDATE:
It is actually a competition sponsored by an Arab Political Magazine called "Alhayat" which means Life in Arabic. I think it is Lebanese and it is published in London. The competition is not launched officially yet because the site is not activated really, but the idea seems clever enough. It is an Anti smoking Ad so they designed the posters in a way that combines visually the idea of smoking (the open cigarette pack, the ash tray) and the pencil representing metaphorically the concept of creativity and design.
Thanks to Mohammed and Katerina for the explanation!