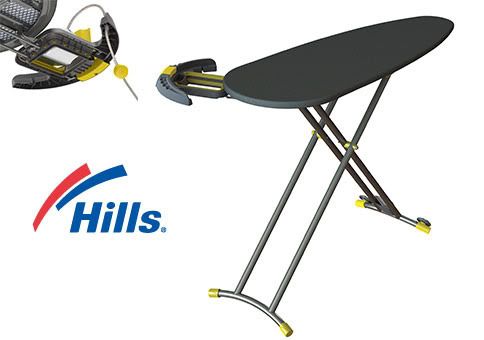 According to the entry on the Good Design Australia website (The Hills Orbit is a 2012 finalist for the annual Australian International Design Awards (AIDA),
"The Hills Orbit, we believe, is the most innovative aand ergonomic ironing board developed to date. It justifies this claim by having the world's first pivoting iron caddy delivering a design solution that is ergonomic for both LH and RH users. In addition, the introduction of a new cord management system which combines with the caddy to deliver a cohesive and convenient method of tangle free ironing. The introduction of a purpose designed water jug that has dedicated storage on the ironing board when in use and when packed away is another first for this innovative product."

So how does it actually stack up you might ask?
Well straight off the bat, I have to say I'm a little biased towards Hills products as every kid from my era remembers swinging from their hills hoist like an amateur Olympic gymnast only to be scolded by their mother "GET OFF, You might break it!" She wasn't so much worried about our bones, but the clothes line, and still it thing lasted for years… as did my bones.
Hills is a great Australian brand like Bonds(was) and this Ironing Board was designed in Australia, so it proves we still can produce top quality work.
It's tough and sturdy, and even though I haven't met anyone who actually likes ironing, this does make it a little easier with its fancy iron holder which alleviates the need for putting a hot iron down near the edge of the board, and it also has a great tangle free attachment to stop the cord becoming a knotted mess.
As Myles Barlow might say. I'm giving it 4 Stars.