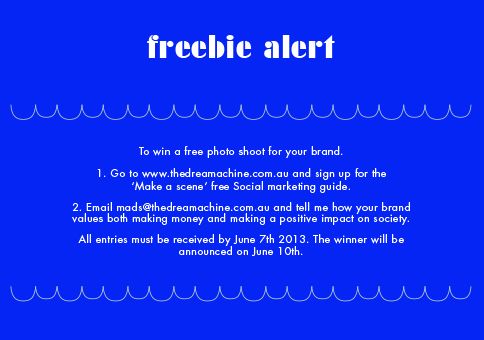 Dreamachine creates brands that are good for society and great for business. A charismatic brand needs a strategic storyline with strong visuals that make for killer creative and online content that everybody "likes".

To win a free photo shoot for your brand, you need to…

1. Go to www.thedreamachine.com.au and sign up for the "Make a scene" free Social marketing guide (at the top).

2. Email mads@thedreamachine.com.au and tell me how your brand values both making money and making a positive impact on society.

All entries must be received by June 7th 2013. The winner will be announced on June 10th. The photo shoot must take place in either Sydney between June 11th and July 11th. Or in New York between August 1st and September 1st. Entries from other areas are accepted, but a travel agreement would need to be negotiated, and should be included in your email.