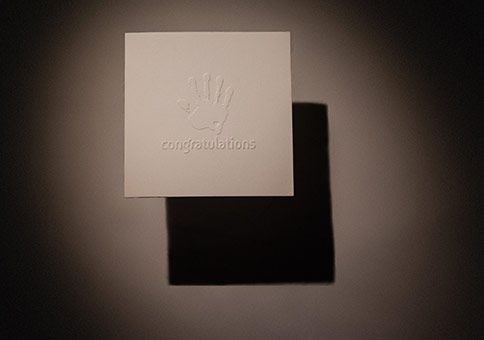 With all the 'death of print' the media seems to be pushing, it's great to see innovation still possible in the print industry. The people over at CLIQX® have created a fantastic new technique to make printing embellishments easier and sharper (something that previously was much more difficult to do). Having started my career in printing, I have seen firsthand how far the industry has come with the advent of print brokers and cheaper printing/production costs, and how hard it has been recently for all printers with the move away from print to digital. But as almost everyone in the design field will attest to, nothing beats the tactile qualities of printed materials, especially those on a high quality stock; you can't exactly hand out a digital business card (not yet anyhow). So with all that said, having seen first hand the quality that the CLIQX® technique produces, the printing industry isn't dead by a long shot.
Impressive specialty embellishments are now affordable with CLIQX® because they can be easily managed in-house by regular printers. The signature sculptured emboss achieved by CLIQX® is what is catching the eye of the advertising world and designers. Compared to a normal emboss, CLIQX® delivers sharper lines and can often hold finer detailed designs.

CLIQX® gained media attention around the world earlier this year when the company launched its new website www.CLIQX.net. Glen Barry, President of AGDA NSW, was impressed with the work done for him with the CLIQX® Technology on the Insight LS business cards, 'The result was a reverse emboss that captured the subtlety we were going for beautifully.' BJ Ball has also collaborated with CLIQX® to showcase the possibilities of these specialty embellishments on their range of papers.

CLIQX® Technology was a talking point of the Australian Print Awards in 2012 when it was used to embellish the second edition of design journal, Justus Magazine, 'To Letterpress With Love' which was dedicated to showcasing the art of letterpress techniques. The collector's item magazine for print designers featured CLIQX® letterpressing, embossing and debossing.

CLIQX® also lends its uses to Braille and embossing label stock or polypropylene – previously considered by designers and printers alike to be very difficult to achieve. Features like this were previously the domain of only the highest-end printers with highly skilled print finishers, and so were only used on premium jobs for luxury, big budget clients. But now, CLIQX® makes the technology affordable without relying on metal dies and fits onto existing machinery.

Designers are hunting for economical solutions to bring their creative visions alive. CLIQX® is the answer and it is now available to Australian printers.