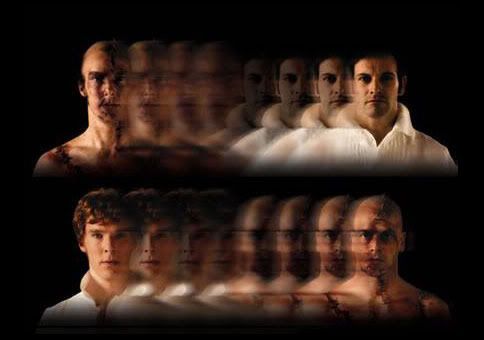 Theatre on film? What a novel idea. All the advantages of film close-ups and angles combined with a live theatre experience. And without the pricey theatre ticket price tag. These were my immediate thoughts as I sat down to watch the encore screening of Danny Boyle's award winning Frankenstein. My other thought was it saved me a flight to the other side of the world to see a National Theatre production. And a time machine, since it's no longer playing on stage.
And I was impressed. The video editing allowed me to feel a part of the live audience. But with views from all sides of the theatre, and up close. The set design and lighting were elegantly simple (I particularly loved the overhead 'cloud' of hundreds of light bulbs). And the performances? Phenomenal. But then you'd expect that with Benedict Cumberbatch and Jonny Lee Miller at the helm. Interestingly, Cumberbatch and Lee Miller interchange roles each night.
The story, written by Nick Dear, is based on Mary Shelley's classic gothic novel and gives a fresh perspective away from well worn Frankenstein stereotypes. Childlike in his innocence but grotesque in form, Frankenstein's bewildered creature is cast out into a hostile universe by his horror-struck maker. Meeting with cruelty wherever he goes, the friendless Creature, increasingly desperate and vengeful, determines to track down his creator and strike a terrifying deal. Urgent concerns of scientific responsibility, parental neglect, cognitive development and the nature of good and evil are embedded within this thrilling and deeply disturbing classic gothic tale.
And for four nights only in June, you can grab a seat to watch both encore screenings. Tickets are now on sale for both versions. See below for participating cinemas, dates and details:
SATURDAY 9 & SUNDAY 10 JUNE
Benedict Cumberbatch – The Creature/Jonny Lee Miller – Victor Frankenstein
SATURDAY 23 & SUNDAY 24 JUNE
Jonny Lee Miller – The Creature/Benedict Cumberbatch – Victor Frankenstein
PARTICIPATING CINEMAS ACROSS AUSTRALIA
Cinema Nova Carlton | Dendy Opera Quays | Hayden Orpheum Cremorne | Chauvel Cinema Riverside Theatres Parramatta | Manly Cinemas | Dendy Canberra | Palace Centro | Dendy Portside | Palace Nova Eastend Adelaide | Luna Cinemas Leederville | Luna SX
Dendy Byron Bay | Narooma Theatre | Cinemax Cinemas | CMAX Devonport
MONA – Museum of Old & New Art Hobart