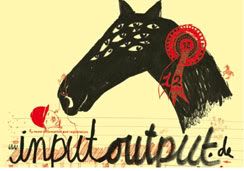 output is a non-profit organization based in Amsterdam which provides an international platform to promote innovation in the design community. They seek to foster talent and create networking opportunities on a grand scale for young designers. Through the output Lab they develop projects that unite companies with design students in exciting collaborations and they organize bi-annual conferences that address design issues.
They currently have a competition running called output calls for input which aims to rescue student design projects from the fate of a dusty drawer. The competition is the biggest of its kind in the world for students of design and architecture and they are calling for submissions now.
Sections are:
Grand Prix (3000 EURO scholarship) for the best work submitted
Print Creativity Award (3000 Euro scholarship for the winner and four scholarships worth 500 Euro for projects that honorary distinction) for projects which cross the borders of print technology and connect to other media.
Competition finalists will be selected by a prestigious jury and published in the annual yearbook.
Deadline for submission is Feb 15th 2009. See http://www.inputoutput.de for details.