Interviews
After 25 years in the business (older than some of its readers), desktop magazine is in for a reboot, so to find out more about this exciting development, and what the future holds, we spoke to its editor Brendan McKnight.
Read our interview with the editor od desktop magazine, Brendan McKnight →
If Chuck D is the Epitome of Public Enemy then Eamo Donnelly surely is that and much more of Australiana, So take a fair shake of the sauce bottle, watch out for the raw prawn, put on a pair of thongs, and lets head on down to Eamo's Milkbar.
Ozanimate is a webhub keeping  students and practicioners up  to speed on everything in the Australian animation community. Showcasing great local work, plugging events, interviewing industry players and just generally keeping tabs on the whole scene, Ozanimate is doing it for the kids. One of the contributors, Alex Grigg, a 3D animator, is doing just fine down in Adelaide making things move for your viewing pleasure. We caught up with him to hear the ins and outs of Aussie animation.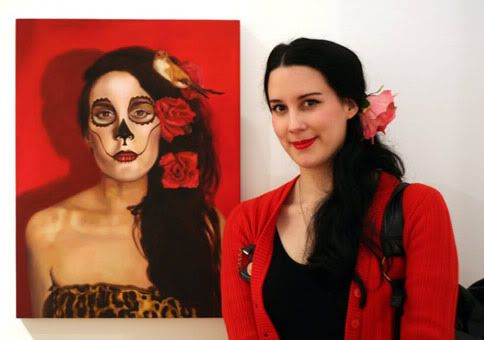 Walking through Ruby Chew's Adelaide is like following the Queen of Hearts through her Wonderland. As we pass a vintage shop she likes, she uncurls her arm in a fling, like a burlesque dancer unburdening herself of a gratuitous item of clothing, "You should really check it out, they have the loveliest things upstairs," and throws another arm around a beaming friend who we bump into in the street, "Well hey, you!"  As she leads our motley crew to dinner at her favourite Chinese joint in the CBD's Gouger St she notices a long line-up out the front of the restaurant. Turning smartly on her heel, she instructs us to follow her to BBQ City instead and with a note of finality announces, "Oh, it's just the same." Read the rest of Estelle Pigot's Interview with Ruby Chew →
In the parallel universe of manga , one young, Australian artist is creating a KAPOW! with her illustrations and leading the groundswell of interest from local creatives in the Japanese-inspired style.  Queenie Chan ditched a career in IT during the dot.com-bust to pursue comic illustration, her debut series The Dreaming was released by US comic publisher TokyoPop and the 30 year old artist hasn't looked back. DF caught up with Queenie to kick off 2011.
In our last interview for 2010, Design Federation catches up with the wonderful Natalie Faber-Castell from Faber-Castell (yes that really is her last name!), about all things related to the brand that has been going strong for 250 years.
Some paintings hold your attention for a few seconds and then they are gone to make way for the next infobyte, other work stops you and pins you down while you try to solve its wonderful puzzle, which is exactly what the work of Dagmar Cyrulla does. Hip-Hop might be dead, but painting in Australia is still alive with talent like hers giving it oxygen. Read the complete Dagmar Cyrulla Interview →