General
This year we are launching our first ever Das Monk photography competition, in association with Lomography Australia/NZ. Over the next month, we'll be opening our doors (and inboxes) to budding young photographers who think they can bring something new to the Das Monk table, as we are looking for an amazing photo to print on a t-shirt in one of our upcoming seasons.

Drawing inspiration from the lo-fi analogue aesthetic of Lomo cameras, this year's theme is "Ride"

Entries close on June 6, and the winner (chosen by us) will receive a Lomo Sprocket Rocket Camera and film pack, a Das Monk tee/sweatshirt pack, $250 cash, and of course their very own Das Monk t-shirt featuring their winning entry!

To enter, follow the guidelines below:

1. Email your photos (max 3 photos per entry) to mail@dasmonk.com
2. Include a brief bio, including a website link if you have one.
3. A brief explanation of how it relates to the theme, "Ride".

Good luck!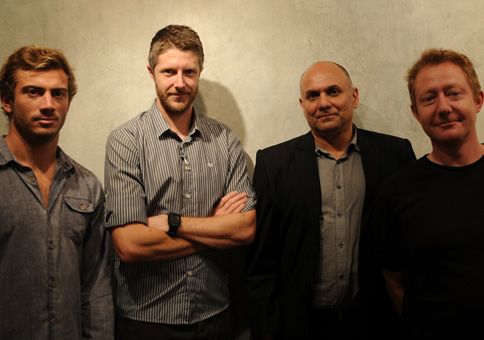 Tickets are now on sale for designEX's Speaker Series, The Business of Design. The collection of sessions are aimed at openly discussing the current economic climate and its effects on local practices/studios; the challenges in creating and maintaining workplaces that promote thought leadership and idea generation that, with our location and isolation can be an issue. Featuring a number of influential speakers from the industry and with impressive international guest speaker, Michael Young, we will look to raise the topic of local collaboration and interdisciplinary approaches and the importance of community.
Congratulations to the Foundation Stone winner Derek Samuel for his entry titled 'Life' in the professional section, and to Stepping Stone winner Paul Hanslow for his 'Fragile Grip on Life' entry in the student section.
40 finalist posters selected from over 300 entries were on display at last week's impressive exhibition launch at the Monash School of Art Design & Architecture.
AGDA has collaborated with UNICEF to create the theme for this year's Australian Poster Biennale, which received responses from around the globe, including Turkey, Poland, China, Ecuador, USA, England, and Greece.
Designers were invited to create posters in response to the theme "A mother's life is precious". The 40 finalist posters dealt with a range of issues surrounding women's rights, women's health and maternal mortality.
The AGDA 2013 Australian Poster Biennale Exhibition is open May 3 – 16 | Cost: Free
Foyer, Monash Art Design & Architecture Building | G, 900 Dandenong Road Caulfield East
Monday to Friday, 10am – 5pm | Saturday, 12 – 5pm
Closed on Sundays and Public Holidays
Special thanks to sponsors Monash University and Digitalpress and to Mark Gowing for his curatorial expertise.
australianposterbiennale.com
posterannual.agda.com.au
www.facebook.com/AustralianPosterBiennale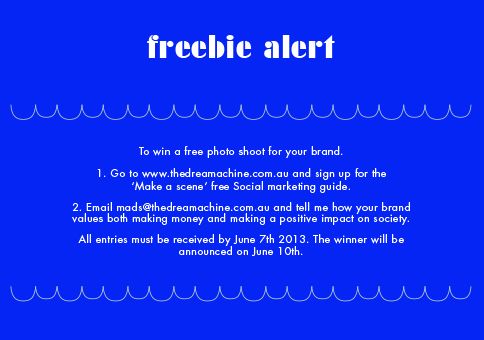 Dreamachine creates brands that are good for society and great for business. A charismatic brand needs a strategic storyline with strong visuals that make for killer creative and online content that everybody "likes".

To win a free photo shoot for your brand, you need to…

1. Go to www.thedreamachine.com.au and sign up for the "Make a scene" free Social marketing guide (at the top).

2. Email mads@thedreamachine.com.au and tell me how your brand values both making money and making a positive impact on society.

All entries must be received by June 7th 2013. The winner will be announced on June 10th. The photo shoot must take place in either Sydney between June 11th and July 11th. Or in New York between August 1st and September 1st. Entries from other areas are accepted, but a travel agreement would need to be negotiated, and should be included in your email.
The United States and ten governments from around the Pacific are meeting yet again to hash out the secret Trans-Pacific Partnership agreement (TPP) on May 15-24 in Lima, Peru. The TPP is one of the worst global threats to the Internet since ACTA. Since the negotiations have been secretive from the beginning, we mainly know what's in the current version of this trade agreement because of a leaked draft [PDF] from February 2011. Based upon that text, some other leaked notes, and the undemocratic nature of the entire process, we have every reason to be alarmed about the copyright enforcement provisions contained in this multinational trade deal…

Read the complete article by Katitza Rodriguez and Maira Sutton over at the EFF
This May, young Sydney based creative group Paper Moose will launch its revamped design and sound departments.

After creative work for clients such as Telstra, The Monkeys, Droga5, Sydney TAFE, City of Sydney, The National Playwriting Festival, HUB and UNSW Paper Moose are expanding their team and welcoming in new visual designers as well as adding sound designers Boomcrash Co to the roster.

The new departments will offer services such as branding/identity, digital design, web design, animation, print services, original soundtrack for television, film, web and video games as well as voice overs, mixing and mastering for post.

Head of Visual Design at Paper Moose, Reese Geronimo: "It's great to have new ideas and a fresh style in the studio. I'm looking forward to the work we can produce together".

Bringing their discplines and styles together, the visual and sound designers have worked for clients such as Shock records, Channel V, Music Max, MTV, Remote Recorders, Surf Dive 'n' Ski, Keio University, Toshiba, Lite Flite and Strut & Fret production house.

Director Nick Hunter "It's an exciting time for Paper Moose, having a team of visual and sound designers on board, we are now able to offer clients an even more holistic approach to their needs."
Creative Director David Chontos has been involved within the world of 3D graphics for over a decade now. With a keen interest in costume design and character animation, David heads up the CG department at Psyop, Los Angeles – a multi-talented high end studio, specialising in Motion Graphics and Character design.
Join Ken Garland (UK), Rob Giampietro (US), Mark Gowing, Michaela Webb, Dan Pike and Peter Hall for the upcoming Responsive Projects forum, to be held in Brisbane on Thursday April 11. The forum will combine lectures with productive, critical discussion between speakers, facilitators and audience, all addressing this theme Identity.
More information and ticket details can be found on their website: responsiveprojects.com