Film & Animation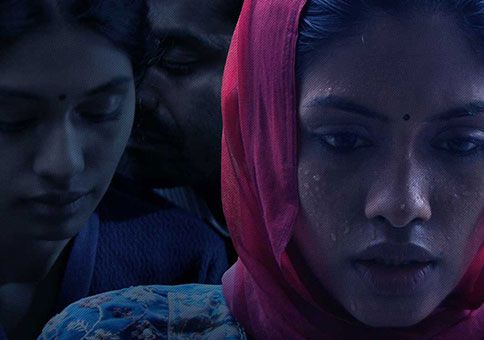 On the 13th of Oct we have Point of View, a forum exploring the idea of Myth Making in screenwriting, and how this might be the answer to the fragile Australian film industry. Tickets can be booked for the event here.
From the 17-19th of October, ICE in collaboration with Parramasala will be presenting two outstanding projects. The first is The Chindian Diaries, an exhibition traversing the stories of Chinese Indian mixed marriages, celebrating an intertwining of cultures, religions and families. RSVP for the launch here.
The second is the South Asian Film Festival, a FREE film festival over two days that showcases some sumptuous cinema of South Asian stories from across the world. The collection features critically acclaimed foreign films such as Thallana and Oba Nathuwa Oba Ekka, as well as local productions like My Cornerstone.
Presenting the best films and artwork from around the world, the annual Human Rights Arts & Film Festival (HRAFF) will challenge, touch and inspire audiences from all walks of life.
HRAFF is a Melbourne based not-for-profit organisation devoted to the exploration of human rights issues through an annual film and arts festival and an on-going schools and community program. HRAFF selects its arts and film to engage and inform people on human rights issues. The festival's innovative and entertaining program resonates with audiences, encouraging them to talk about their experience.
For a fortnight in Melbourne, and three weeks across the country, HRAFF exhibits a selection of contemporary cinema, music and fine art. In its seventh year, HRAFF continues to provide a shared site whereby artists, human rights organisations and the Australian public are united by their desire to contribute to social change.
HRAFF 2014 will be held in Melbourne from 8 – 22 of May before heading around the country on tour.
MELBOURNE LISTING DETAILS
TheHuman Rights Arts and Film Festival
Thursday 8 – Thursday 22 May 2014
ACMI Cinemas, Yarra Gallery and No Vacancy Project Space in Federation Square, The Dax Centre and Bella Union.
MORE INFO: www.hraff.org.au
TICKETS:
Opening Night: $45 Full, $35 Conc
Closing Night: $30 Full $25 Conc
Hindsight: DEATH TO THE FASCIST @ Bella Union $12 Full $10 Conc
Cinemateque double screening $20 full $18 Conc
CineSeeds kids screening $25 full $15 Conc $60 Group (2 adults max)
All other ACMI Film Sessions: $18 Full $16 Conc $14 Group (6+ people)
Three one-hour documentaries directed by acclaimed filmmakers KP Jayasankar and Anjali Monteiro, professors at the Tata Institute of Social Sciences, Mumbai.
The Program is supported by University of Western Sydney and University of Technology, Sydney. These three critically acclaimed documentaries take an
intimate look at spirituality, sexuality, family and tradition.
Sat 5 October (5pm) Our Family
Sun 6 October (5pm) Like Here Like There (So Heddan So Hoddan)
Mon 7 October (5pm) The Bond (Naata)
Where
Raffertys, Riverside Theatres
Church St, Parramatta (10min walk from train or ferry)
Limited places – Book via ice.org.au/book
More info: info@ice.org.au or 02 9897 5744
MIAF is super excited to be involved in saving a really important part of Australian animation history – and you can be too!

The Grendel Fund is a once-in-a-life-time opportunity to raise funds to ensure the digital preservation of Alex Stitt's groundbreaking animated feature 'Grendel Grendel Grendel' (1981).

In the festival's 13 years, this is absolutely the MOST significant and rewarding thing we've been able to pull off – hands down!

We quickly discovered digitising a 35mm feature is a rather expensive process. Fortunately, the good people at one of the leading film transfer houses have agreed to sponsor half the cost, so we're asking for your help to raise the remainder.

To make this happen, the campaign goal is AUS$9,000

$8,000 for 50% of the digital transfer
$400 pozible fees
$600 transaction/admin fees

If we achieve more than this amount (which would be amazingly fantastic), we want to help 'Grendel Grendel Grendel' screen beyond MIAF13.

PLEDGE HERE! pozible.com/grendelfund
Do you happen to have a sheeeeet hot camera but little or no skills on the use of it? Then this workshop could be for you, see all the details below and in the spirit of Southpark.."Why don't you take a picture, it'll last longer" …"Cleeeeeck!"
Is your camera sitting on the shelf?

WANT TO GET OUT AND USE IT?
We can show you how!

DATES FOR PHOTOGRAPHY WORKSHOPS COMING UP ARE:

Saturday 13th April | Saturday 25th May
Saturday 29th June | Saturday 27th August

$250 for a 4 hr course | 11am – 3pm

• Learn simple but effective photography techniques with Tania Niwa, Grand Master of Photography.
• Fun, easy to understand photography workshops designed to suit beginners and enthusiasts of all levels.
• Use your own digital 'point & shoot' camera or digital SLR .
• Photography workshops start at our Brookvale studio and continue on to nearby locations to practice photography techniques.
Rone X Wonder – Kaka'ako from Everfresh Studio on Vimeo.
Rone & Wonderlust. Pow Wow Hawaii 2013
Music credit: "Where is my mind" by The Pixies
Rone & Wonderlust worked on their largest wall together to date taking out the entire side of an old semi-disused building right on the edge of Kaka'ako. Rone and Wonderlust went big with the name of the local area hoping it would become somewhat of a landmark for the community. Thanks to local legend Prime and 808Urban the guys had the help of the neighbourhood kids from the 808Urban workshop to help on the wall. A big thank you to the interns as well, especially Danny King (http://dkingart.weebly.com/my-work.html) and Kamaka for all their help.
The 23rd Melbourne Queer Film Festival (MQFF) has announced the full program of 169 films and events on offer at the 2013 festival.  MQFF runs for 11 days from 14– 24 March and is one of the largest queer film festivals in the world.
The program celebrates and explores queer in all its forms; with challenging and entertaining queer-themed films, international hits of the festival circuit, Hollywood stars and a strong program of Australian films screening at the Australian Centre for the Moving Image, Hoyts Melbourne Central and LOOP Bar.
Opening the Festival and kicking off the party is Gayby, an hilarious and sexy look at two best mates who stretch the boundaries of their friendship. This debut feature by Jonathan Lisecki – who also stars in the film and steals every scene he's in – has won over 16 Festival awards and is based on the short film of the same name which screened at MQFF in 2011.
Closing the Festival is the seductive Melbourne film Submerge, a quintessential 'Gen Y' story by local director Sophie O'Connor. Submerge explores the underlying sense of entitlement of a generation that pushes young adults to believe they can have it all, despite a plethora of competing demands from social media, family, and peers. University student Jordan has a chance meeting with an intriguing nightclub owner, and is propelled into a subculture of fetish and anonymous sex.
In between the two book-ends sits 169 titles, comprising 88 sessions. For more information visit: www.mqff.com.au