Fashion & Lifestyle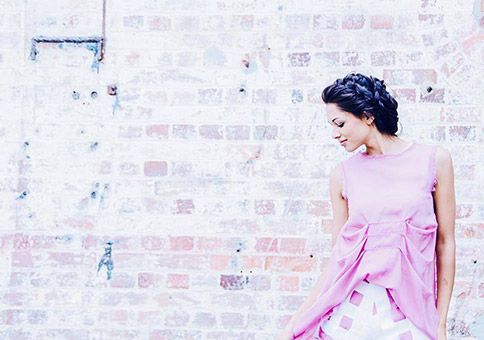 BUDDING fashion design student Judith Ortiz has been hand selected by the team at RAW to showcase her first ever fashion line in an exciting event this February.

Judith, 23, is currently studying for her final year of Fashion Design at the Billy Blue College of Design in Brisbane and has been selected by RAW directors after they discovered her work on facebook.

"My brand, JUZU, is sustainable fashion. The clothes are made from eco-friendly materials, but unlike other lines that follow this path, my designs are contemporary, modern and edgy. This is my first runway show ever and I know it's going to be a very nerve wracking but also a great experience!"

To see more about RAW and Judith please visit: www.rawartists.org/juzubyjudith
Sydney, Australia: Billy Blue College of Design, in partnership with Australian Indigenous Fashion Week (AIFW) can today announce the two design students who have been awarded the highly acclaimed Design Fundamentals scholarship.

Corina Ritchie and Tyson Jolly were whittled down from a huge number of applicants, selected based on their passion for innovation, flair for creativity and talent for design.

Offered for the first time this year, the Design Fundamentals Scholarship focuses on industry relevant projects, fundamental knowledge, technical skills and the creation of a portfolio. Corina and Tyson's completion of the Design Fundamentals course is designed to prepare them for entry into the AIFW Design program, which trains and mentors students to prepare their runway collection for the 2015 Australian Indigenous Fashion Week. Following this, Corina and Tyson will then be encouraged to specialise in branded fashion studying Billy Blue's innovative Bachelor of Applied Design.

Mieke Leppens, Head of Academic Studies – Branded Fashion at THINK: Education Group (Parent company to Billy Blue) says: "This is a hugely exciting opportunity for Billy Blue College of Design and our two new students. Billy Blue is the long standing home of creative change-agents and trailblazers, so supporting AIFW and emerging indigenous talent is a natural fit for the college."

Tyson Jolly, of the Worimi community, was brought up in a small mission settlement in Karuah, NSW. Tyson always dreamed of having a creative career; "If you want to do something with your life then you have to fight for it," Tyson explained. "I never wanted to sit in a stereotypical role, so being selected to enter into this course is an incredible opportunity for me."

Corina Ritchie, a proud Yorta Yorta woman, grew up with a creative family in Boronia, Melbourne and adds; "I've always loved fashion, particularly bohemian and classic styles. One of my first phrases to my mother was 'does this match?"

"This is a dream come true for me. I have always wanted to open my own bespoke boutique, built mindfully to ensure sustainability, so this is a great step in the right direction."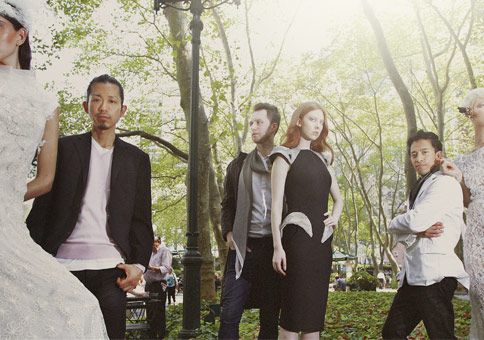 Fashion Palette, the Sydney-based company, which has made a name for itself by providing Australian designers with unique local and international runway platforms returns to New York in September to showcase the Spring 2013 collections from some of our country's finest fashion designers.
Last year, the Fashion Palette New York (FPNY) line-up included some of Australia's most celebrated designers – Akira Isogawa, Toni Maticevski, and Bowie Wong, Bettina Liano as well as Samantha Wills to name a few. Together for the first time on one runway these designers showcased their Spring 2012 collections in an exclusive Australian – only show at Canoe Studios in Manhattan, New York. Read more about Fashion Palette →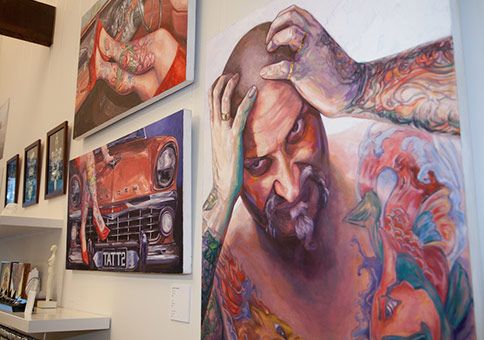 Do you like Tattoos?
Then why not head on down to Tora Sumi Tattoo Studio & Art Gallery in Balmain and check out the latest work on show from their first Collective Art exhibition.
"Tora Sumi is a Tattoo Studio & Art Gallery. An inspiring, energetic space dedicated to the creative collaboration of art + ink."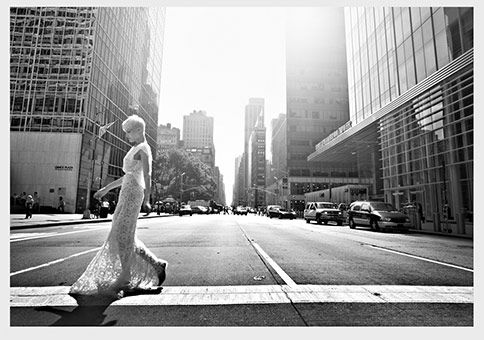 Fashion Palette is back again in 2013 (read below) and you can still enter our Fashion Palette competition and win yourself a couple of tickets to go and check it out.
An alluring new look program for Fashion Palette Sydney sees three events over four days. Kicking off the birthday celebrations on Tuesday evening 5th March is the invite-only VIP Launch Night, with the Runway Event on Thursday evening 7th March followed by a glamorous After Party on Friday 8th March.

Fashion Palette has introduced one premier runway event only to Sydney on the back of the format's success in New York where 16 Australian designers will showcase their spring summer 13/14 collections. Previously held over two days, the new-format Fashion Palette runway will be held at the Australian Technology Park. Tickets are $49pp from www.ticketek.com.au for those wanting to secure their seats now amongst key fashion industry influencers and style savvy personalities.

Fashion Palette Sydney 2013 Program:
7th March 2013 from 6:30pm – Runway Event, Australian Technology Park
8th March 2013 from 7pm – After Party, Marquee at The Star
Is it Batman and Robin.. No… How about Bonnie and Clyde… Wrong again!..It's Bianca Milani & Paris Thomson who have been out and about at the Harvest Music Festival 2012 in Melbourne filming and photographing till they ran out of puff (not the magic dragon), and today we have the photographic evidence for you to peruse. you can check it all out by clicking the photos or these links. Music & Colour
Also, dont forget to check out the two awesome video interviews at at the Harvest Music Festival 2012 with The Dandy Warhols & The Black Angels
Over the weekend at Supanova, a new dimension in music sharing was born by Yunyu as she launched her Twisted Tales project/album through QUIRTz.

QUIRTz, the love child of a CD and a shirt, allows anyone to download Twisted Tales tracks, videos and other media via a QR Tag on the shirt. As Twisted Tales is a multi-platform collaboration merging music with manga and animation, Yunyu found there was no other way to distribute the full experience to fans.

Yunyu plans on turning her fans into musical foot soldiers as even though the shirt owner registers their QUIRTz for premium content, the QR tag can still be scanned by others to download her tracks; but not without a twist. Each single will form a radio play by online podcasters Cool Shite, which will bookend the track forming a 'nag tag.'

"It's the way of the modern world to download tracks free, so we thought that we'd just make it easier for them. What they don't realise is that we've even twisted what they download."  says Yunyu.

Twisted Tales has the support from both the pop culture and music industries. It is the first music-manga-animation project to be jointly distributed through Madman Entertainment and MGM and will be episodically released. Like a storybook, the album will be released in episodes. Get your QUIRTz now: yunyu.com.au/store/

After knockout performances in Brisbane which yielded rave reviews Yunyu will next travel to Melbourne on June 22 and Carriageworks, Sydney on June 30.
Yunyu's Twisted Tales Tour
Friday 22 June, Revolver Upstairs
Tickets: $12 + BF/ $15 Door
Saturday 30 June, Carriageworks
Tickets: $25/ $20
Tickets & Shirt: yunyu.com.au