Events & Exhibitions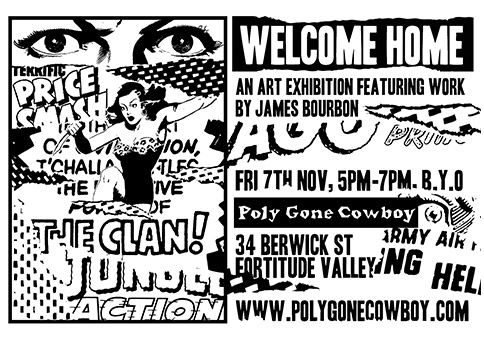 After returning to Brisbane from a 4 year stint living in London, James Bourbon returns with a new solo show "Welcome Home" opening on Friday the 7th of November at Poly Gone Cowboy (34 Berwick Street, Fortitude Valley) from 5pm.
James has displayed and painted works around the world. He paints a unique mash up of vintage and comic works to renew their life in a different form. Check out some of his past work and come down to the show to see a mixture of old and new works.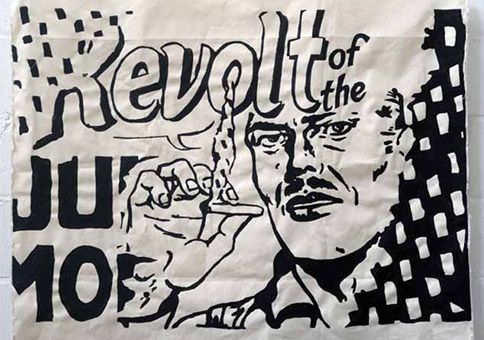 "I paint what I am emotionally connected to, or thinking about at a given time. My thoughts and experiences of how we relate to each other are always in flux". (Dagmar Cyrulla, 2014).
Wagner Art Gallery
39 Gurner Street, Paddington, NSW 2021 T: 02 9360 6069
E: wagnerart@bigpond.com W: wagnerartgallery.com.au
Gallery Hours: Monday – Saturday 10:30am – 6:00pm, Sunday 1:00 – 6:00pm
NSW CAG vision is for all people with a lived experience of mental illness to participate as valued citizens in their communities This Mental Health Month, the public is invited to a unique exhibition where artists with a lived experience of mental illness tell their stories through art.
The exhibition will feature more than 100 artworks, created by people who have personal experience of mental illness. The works come from all across the state; from Dubbo to Darlinghurst.
"With one in four Australians experiencing some sort of mental illness in their lifetime, it's easy to get lost in the numbers and forget that each is a person"." said NSW CAG CEO Dr Peri O'Shea "The 2014 Recovery in Art exhibition is a forum where we can celebrate life through creativity. The artworks are as diverse as the artists themselves and their stories"
"In fact, this is NSW CAG's biggest and most diverse art exhibition to date." said Dr O'Shea
An artist featured at this year's show, Tina Pirola, says art had a very special place in her recovery journey.
"Art is a way of making sense of it all," she said. "When you don't have the words to express what you're thinking or feeling, art has a way of connecting with people and starting a conversation."
Although she has exhibited some of her artworks before, this is Tina's first time exhibiting at Recovery in Art.
"Being a part of Recovery in Art has been important to me. People with a mental illness often feel invisible in society. To have an exhibition that acknowledges my artistic process hand-in-hand with my recovery process has been so refreshing" said Tina. "It's not about whether you like an artwork or whether it's 'good' or 'bad', it's about the process of making the work, what it means to the artist and what it means to the viewer."
The exhibition is running from 8-10 October in the Muse in Ultimo TAFE, (Cnr Harris and Thomas St), right across the road from the ABC.
The launch of the exhibition will be attended by newly-appointed NSW Governor His Excellency General David Hurley, NSW Mental Health Minister Jai Rowell, NSW Mental Health Commissioner John Feneley, Sydney State MP Alex Greenwich and participating artists.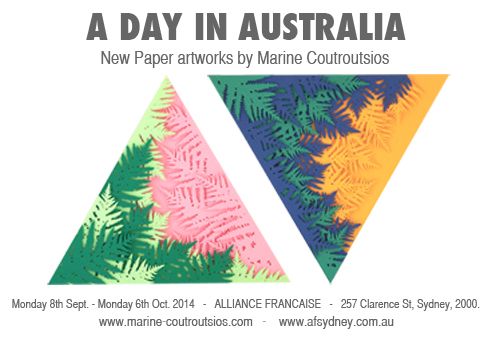 A day in Australia celebrates the natural beauty of Australia. This exhibition showcases a new series of Paper artworks inspired by Marine Coutroutsios's walks in the forests of Australia. These Paper cuts are her own interpretation of seeing the sky from beneath the shadows of the ferns. Each artwork from this series has different colour scheme echoing a different time of day. "My work is all about aesthetic, I play with representative and abstract designs offering more than one possible way of interpretation to trigger your imagination. I wish to uplift and bring an optimistic and colourful energy as well as a sense of wonder".
Her popular series inspired by Australian Birds will be also exhibited for those who missed her latest show.
Marine Coutroutsios is a French artist living in Sydney since 2012. She makes Paper Art using scalpel and scissors and creates installations and sculptures for her personal art practice alongside commissions for commercial illustrations and paper installations.
8th September – 6th October
Alliance Française
257 Clarence Street, Sydney.
Opening hours :
Mon-Thu : 9am – 6.45pm
Fri : 9am – 4.45pm
Sat : 8.30am – 2.30pm
Enter through an archway and into a towering cylinder to be electrified by moving multi-coloured light.
Inspired by Middle Eastern architecture and the skyline of Dubai artist Zina Kaye has created something truly sublime. Space Folding is the first work in a new series by creative technologist Zina who professionally builds user-centred playful machines.
Space Folding translates flight data into a unique spatial experience designed to enable interpretation of complex information in new ways. The work reveals geographic and velocity patterns as well using the data to seed sensorial movement patterns.
Zina's professional practice informed both the development and build of the work. As Managing Director of digital innovation agency Holly Sydney she's defined an agency-wide methodology for elegant iterative prototyping. Inspired by product operations management the company separates the engineering process from the programmatic platform and brings it back together with customised creative programming glue where required.
The sculpture has been selected to be a part of the International Symposium on Electronic Art 2014 in Dubai and before it goes on tour it will be on display in Sydney.  Over four days, from the 23rd of August to the 26th the work will be open to the public and the team will continue to develop the work in situ based on public interaction.
Space Folding: 23-26 August, 11am-8pm, The Rocks Pop-Up, Shop 2.05, 140 George Street, The Rocks.
The Rocks Pop-up is an initiative of Sydney Harbour Foreshore Authority to find creative uses for temporarily vacant buildings, attracting new visitors to Sydney's historic heart.
This project has been assisted by the Australian Government through the Australia Council for the Arts, its arts funding and advisory body.
For more information contact: Jonny Hurn jonny@hol.ly 0487 747 061
Art Pharmacy partners with the 2014 Sydney Fringe Festival to host its fifth consecutive show, The Lab.
On Thursday 4th September the Art Pharmacy will launch The Lab, an interactive gallery space which will house a selling exhibition of undiscovered contemporary art, featuring a range of original works from painters, photographers, illustrators, print makers and sculptors. Read all about The Lab →
FACULTY OF ARCHITECTURE, BUILDING AND PLANNING DEAN'S LECTURE SERIES
SHAN SHUI CITY BY MA YANSONG, MAD ARCHITECTS

5 August, 7pm
Carrillo Gantner Theatre, Sidney Myer Asia Centre, University of Melbourne
Register here

In this exciting Dean's lecture, Ma Yansong will present the recent projects of MAD Architects and introduce the architectural idea of "Shan Shui City". To Yansong, this idea does not just refer to nature, but is also a social ideal of a future city that reflects individual emotional response to the surrounding world. This idea could be taken as a criticism of urbanisation in contemporary China and a vision for the future of chinese cities, which should combine city density, functionality and connection between nature and city dwellers.

Ma Yansong, Founding Principal of MAD Architects, is recognised as an important voice in a new generation of architects and was hailed as one of the world's most influential and creative young architects by ICON magazine (2008) and Fast Company (2009). This year alone Yansong has been named 2014 Young Global Leader by the World Economic Forum and was listed in the top 100 most creative people in business by Fast Company. Ranked at 53, Yansong was the only architect featured on the list.
http://abp.unimelb.edu.au/events/dls-ma-yansong-mad-architects
Carmel Debreuil, the artist recognized for her quirky paintings of children on ply, is making her Sydney show debut in a group show at the popular NG Gallery in Chippendale..

"It's so exciting to be part of the New Art Show at the NG Gallery. It's a fantastic opportunity. Sydney has such a great art scene and the NG Gallery is one of the leaders of the fresh art scene. I'm really looking forward to the opening and seeing the response to my work," says the hard working artist.

In the last two years alone Carmel has participated in an incredible seventeen group shows, seven solo shows, a variety of art fairs and juried competitions including the Northern Rivers Portrait Prize and the Wilson Prize in which she was a finalist. She has created well over 250 pieces and is in constant demand. Debreuil's work has been profiled in magazines and online blogs including The Bubble out of the UK, The Design Tribe by Katrina and Aimee from the Block, Mamamia and Brisbane's very own Scenstr.

Working mainly in acrylic and Posca texters, Debreuil likes the quick drying time of acrylic. Poscas give a continuous flow of paint that is almost impossible to achieve with a brush. Often working with plywood, the surface already has a natural beauty and becomes part of the artwork itself.

Debreuil works in acrylic and Posca on plywood as she feels the natural beauty of the wood is an integral part of the artwork. With a cast of children whose stance and attitude is full of the bravado, nonchalance and swagger of youth Debreuil's work has a sense of nostalgia and humour.

'I see kids as these amazing creatures that are perfectly imperfect. I love that they want to hang out with a giant squirrel while wearing a Viking helmet and cowboy boots.'

Debreuil has shown her work in Australia, Canada, Singapore, Hong Kong, and Japan and creates original pieces for gallery shows and private sales and commissioned pieces.

Carmel's work will be showing at the Brisbane Modern Art Gallery from July 8 – 25. and at the NG Gallery in Chippendale from June 17 to July 5.

Brisbane Modern Art Gallery
Opening Night July 11
7 – 9 pm
July 8 – 25
483 Brunswick St
Fortitude Valley, QLD
(07) 3358 1230
NG Art Gallery
Opening Night June 18
6 -8pm
June 17 – July 5, 2014
3 Little Queen St.
Chippendale NSW
(02) 9318 2992
Please visit www.carmeldebreuil.com  to view more works by the artist.