Events & Exhibitions
AUGUSTE CLOWN GALLERY PRESENT
'SPECTRUM' A NEW SERIES OF WORK BY MAB GRAVES

Joining us in Australia for the very first time, American pop-surrealist Mab Graves brings with her an imagined world of candy coloured girls, intergalactic cats and supernatural specimens for her newest exhibition of work, "Spectrum".
On show at Auguste Clown Gallery from 17th April – 3rd May , Spectrum heralds in a new collection of paintings, illustrations, miniatures and sculptures inspired by the prism of Mab's passions. Mab has taken a beautifully blank slate and unleashed all the pieces living inside her head to explore new themes, shapes and spectrums of colour.
Mab Graves is a contemporary artist and illustrator living and painting in a converted 1800's tavern in a small corner of Indianapolis. A self-taught artist, Mab has shown in galleries both in the United States and internationally, and had her art published within books and magazines worldwide. Her work has been sold in more than 56 countries.
Mab's art is deeply inspired by fairy tales and old classic literature. She adores narrative and attributes her creative process to a childhood spent reading stories with three sisters and a very vivid imagination that has allowed her to continue to dream…
"For this new collection I decided to challenge myself. With no planned direction, I had absolute freedom. I started thinking about what I wanted to bring into being. I decided I would unleash all the pieces that had been living inside my head – wanting to come out – but that I'd never been able to grant myself the time to create. I wanted to give myself the liberty to play with inspirations I'd been holding onto for years." – Mab Graves
Spectrum: A New Series of Work by Mab Graves
Opening Night With Artist Meet & Greet: Friday 17th April, 6pm
Presented by Auguste Clown Gallery
52 Johnston Street, Fitzroy, Melbourne Australia
Exhibition On view from 17th April – 3rd May (free entry)
About Auguste Clown Gallery
Auguste Clown is a Melbourne underground art gallery dedicated to showing some of the most interesting and notable pop surrealist artists from around the world. To view the full list of represented artists and their biographies, visit www.augusteclown.com
As part of the 'Spectrum Now' Festival, Funkt Creative, Play Bar and Behind the Front bring you an evening of spirited enchantment where imagination takes flight!
Following on from last year's successful debut group curation, inner city artist Julia Odgers has brought together 6 unique artists that delve into the realm of imagination, breaking down the barriers to provide a fun and adventurous evening under the theme "Never Forget To Play."
Displaying work from a variety of disciplines including neon signage, illustration, fine and graphic art, the evening is all about getting back to basics when life was uncomplicated and fun.  "It's a night away from the 9 to 5, a playground full of art, music and spoken word."  Odgers is always looking for ways to "entice people to forget about the daily grind and have a little fun."
Keeping with the interactive theme, a photo booth will be on hand for those wishing to embrace their alter ego.  Bravo Child will be performing through the power of spoken word, alongside 10-piece band Bateria 61 and DJ edseven providing the night's soundtrack.
Launch is on the 20th March 2015 @6pm
PLAY BAR
BASEMENT 72 CAMPBELL STREET
SURRY HILLS NSW
Links:
https://www.facebook.com/events/1387412261569954
https://www.facebook.com/funktcreative
http://www.playbar.com.au/
http://www.behindthefront.com.au/
Indigenous artists from across Australia are being encouraged to enter the 2015 Telstra National Aboriginal and Torres Strait Islander Art Award (NATSIAA) with entries for the country's only national Indigenous art award now open.
The award, which was established by the Museum and Art Gallery of the Northern Territory (MAGNT) in 1984, recognises the important contribution made by Indigenous artists and promotes an appreciation and understanding of the quality and diversity of Aboriginal and Torres Strait Islander art throughout Australia, with support from principal sponsor Telstra. Read all about the Indigenous artists to enter national art award →
HUMAN RIGHTS ARTS & FILM FESTIVAL 
ANNOUNCES HIGHLIGHTS FROM 2015 PROGRAM
SEASON IN MELBOURNE, SYDNEY, CANBERRA, PERTH, BRISBANE, ALICE SPRINGS AND DARWIN
The 8th Human Rights Arts & Film Festival (HRAFF) is thrilled to announce a selection of highlights from its 2015 program. Kicking off in Melbourne then touring nationally, these highlights will form part of an entertaining and innovative program that seeks to inform, engage, inspire and drive conversation on human rights issues through its creative program of film, arts and forums.
'The quality of films this year is exceptional and we are looking forward to a very exciting festival. Not only do the films highlight the significant moral and ethical issues of our time but they all display filmmaking of the highest quality and integrity.' – Malcolm Blaylock, Program Director read all about the HUMAN RIGHTS ARTS & FILM FESTIVAL →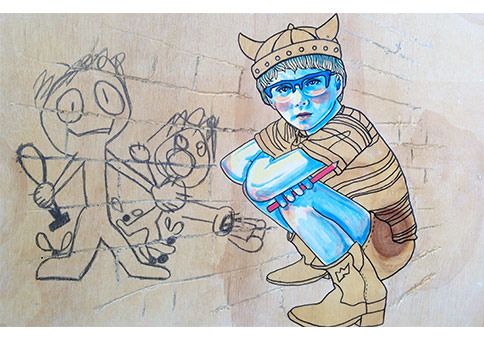 Portia Geach Finalist Carmel Debreuil Solo Show
Opening Night
Thursday  16 April
6pm – 9pm
Northern NSW artist Carmel Debreuil opens her latest solo show Look At Me on 16 April, 2015 at the M2 Gallery in Surry Hills.
Debreuil works with acrylic paint on ply creating brightly coloured paintings of children with stern faces peering out from vintage spectacles. Some are riding chickens, some are facing off with lions, others are playing with over sized toys.
Read all about the Carmel Debreuil Solo Show →
Paintings by the acclaimed aboriginal artist, Robert Campbell Jnr, selected from his body of work across two decades – the 1980's and 1990's – will go on show at Artbank Sydney's Waterloo gallery this February through May 2015. Titled 'History Painter'  the exhibition has been curated by Djon Mundine OAM, the influential writer, critic and independent curator who helped revolutionise the way contemporary Aboriginal art is presented and understood.
The collection of 25 works painted on canvas and board was inspired by Artbank's significant holdings of Campbell Jnr's PAINTINGS which are known for their frank and sophisticated recording of personal memories intertwined with stories of Australia's colonial past and the continuing brutality of racism throughout the 20th century. Read all about the Robert Campbell Jnr Collection →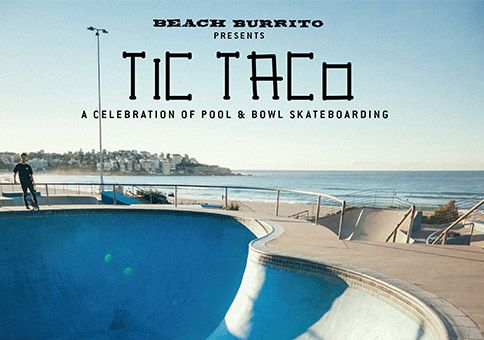 Beach Burrito, 252 Campbell Parade Bondi Beach, Sydney 17th February 2015
Beach Burrito is proud to present TIC TACO ʻa celebration of pool & bowl skateboarding' bringing together an eclectic group of artists from across Australia to interoperate this years theme ʻthe art of pool & bowl skateboarding'
Having grown alongside the famed skateboarding contest Vans BOWL-A-RAMA Bondi , TIC TACO is now entering it's 6th year as an exhibition and 3rd year as a group show.
Curated by Beach Burrito brand manager Jimmy Baxter this year features an exciting line up artists including the likes of Ben Brown, Andrew Mapstone, Alex Lehours & Cameron Markin to name but a few.
TIC TACO is the the first official event to kick off VANS BOWL-A-RAMA Bondi 2015 the ʻfestival of the skateboard' which brings the worlds best skateboarders to the infamous Bondi Beach, Bowl.
The night kicks off at 6pm, with all works for sale and a percentage going to SKATE AID, an organisation supporting humanitarian aid projects for children and young people worldwide through skateboarding to promote a sense of identity and purpose.
Supported by our amigos at PISTONHEAD Kustom Lager, Sailor Jerry & Jose Cuervo.
'Poke Something That Bites' is an exhibition that explores the mentally exhausting symptoms of an anxiety disorder.
"When the mind is like an angry wasps nest thrown into the middle of an elephant's carcass being torn to pieces by a pack of hyenas it can be difficult to process 'normal' or 'rational' thoughts."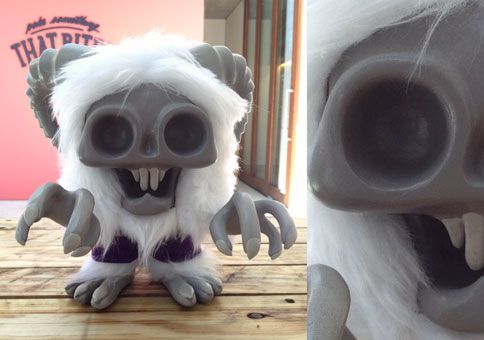 The exhibition is an attempt at visualising these mental and physical symptoms through the mediums of illustration, character design and sculpture/object design.
Running until the 18th November at the Nishi Gallery, NewActon (Canberra). Open 11am-3pm weekdays, 11am-4pm Weekends.
Nishi Gallery
17 Kendall Lane, NewActon ACT 2601 (Nishi Gallery is located near Palace Electric Cinemas)
p. +61 2 6287 6170
For more information visit Cohen's Facebook page here
To view the full media release for the event click here