Events & Exhibitions
With the late-April release of Indie Cindy, the first new Pixies studio album in more than 20 years, the band, along with legendary graphic designer Vaughan Oliver, is calling upon the Pixies' artistic community to participate in a fun contest where art and music converge.
Pixies – Black Francis, Joey Santiago and David Lovering – are looking for committed fans and artists to create a unique Pixies-inspired design measuring 11" X 17" (279mm x 432mm) that utilizes Pixies logos and the "Indie Cindy" album title – everything else can be a product of the artist's creativity and ingenuity.  All submissions will be personally judged by the three Pixies band members and by Vaughan Oliver, who has designed all Pixies artwork over the band's career.  The winning designer will receive a cash prize of $500 and an autographed copy of the winning design.  The design itself will be used as a limited-edition, commemorative lithograph print that will be offered as a bonus item with the purchase of the band's new album at independent music stores.
"We love the idea that people make our music their own," said Pixies Black Francis, "that they have their own interpretation of the lyrics and the songs' meanings.  So, we're really excited to see what the artists in our fan base come up with in terms of visuals, how they 'SEE' our music."
The contest is being hosted by Creative Allies  an online art community and fan engagement platform that provides visual artists with opportunities to design for musicians, festivals and brands.
The contest closes Thursday, April 10 at 11:59PM PT.  For more information, or to submit your design, log onto this location.
About

How do artists and schools work together?
What learning methodologies do we need to draw on?
What critical role do artists play in shaping educational opportunities for our communities?
How do we nurture partnerships across the arts and education sectors?
To answer these questions we have drawn the arts and education worlds together, mining the vast knowledge of artists and arts workers who engage regularly with schools. Major institutions committed to performing arts, visual arts and museum sectors, as well as Western Sydney organisations, will discuss methods for working together, both within the classroom and beyond. Be inspired by case studies from Sydney Opera House, FORM Dance, Australian Theatre for Young People, WestWords, Parramatta Artists Studios, Riverside Theatres, Museum of Contemporary Art Australia and Western Sydney schools.
Not to be missed, this will be a day of conversations, opportunities, inspiration and learning.
Please note complimentary catering is provided, including morning tea, lunch and networking drinks. Attendees can book in per session or for the full program.
Speakers and facilitators include: Bridgette Van Leuven (Sydney Opera House), Carl Sciberras (FORM Dance), Marian Abboud, David Capra, David Haines, Fraser Corfield (ATYP), Dane Ropa (Deputy Principal, Balgowlah Boys Campus, Northern Beaches Secondary College) Robert Love (Director Riverside Theatres), Libby Gleeson (AM), Sarah Davis, Kylie Dunstan and Judith Ridge (WestWords). Also featured is Georgia Close (Museum of Contemporary Art Australia) who will speak about the National Centre for Creative Learning (NCCL).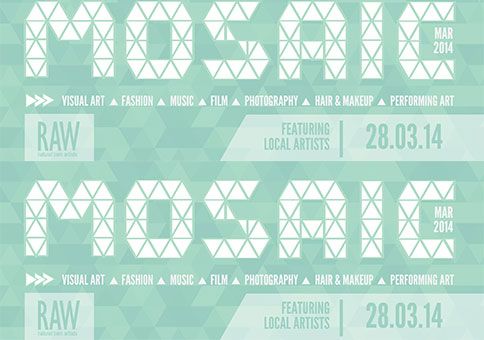 RAW Sydney is proud to announce the launch of its FIRST showcase for 2014.
On Friday, 28th March MOSAIC will bring together 40+ emerging artists spanning genres such as fashion, visual and performing arts, music and more for a one night extravaganza at the The Manning Bar in Camperdown.
Coming off the back of a thrilling 2013 season, this first showcase will bring together 40 of Sydney's top emerging artists and a crowd of over 800 people to celebrate the best of this cities creative community.
Executive Director Kristen Wehlow is excited to be launching the RAW Sydney showcases in a new venue, The Manning Bar.
"We are very excited to call Manning Bar home this year. To be able to showcase Sydney's top emerging talent in the same space that has seen some of the best international and domestic music acts perform is going to give our RAW artists a chance to truly shine.""What we have loved last season is seeing the public get behind their creative community and we're looking forward to seeing that continue for our 2014 season. Our own homegrown emerging artists have pulled crowds that many established local and international acts would be proud of and we expect that this March show could be our biggest yet!"
"We hope to give a voice to emerging artists in Sydney from all creative backgrounds. RAW is not only about art, but also about community, and we hope to continue to build and add to that here in Sydney."
SHORT AND SWEET
WHO RAW:natural born artists is an independent arts organisation, for artists, by artists.  RAW's mission is to provide independent artists of all creative genres, with the tools, resources and exposure needed to inspire and cultivate creativity. RAW connects artists with one another so that they might grow together. RAW hosts events in 60+ cities across the U.S., Australia, Canada and the U.K. They also showcase their artists online via www.RAWartists.org
WHAT A one night emerging arts showcase featuring 40 of Sydney's best emerging talent spanning genres such as fashion, music, visual and performing arts and photography.
WHERE The Manning Bar, Manning Road, Camperdown
WHEN Friday, 28th March / Doors open at 7:30pm
HOW Tickets are $15 (+bf) and are available through www.RAWartists.org/sydney/mosaic or $20 on the door.
The University of Sydney's Faculty of Architecture, Design and Planning is thrilled to present a public lecture by internationally-acclaimed architect John Denton, director of Denton Corker Marshall – one of the most significant and successful Australian-owned architecture and design practices with offices in Melbourne, London, Manchester and Jakarta.

Land Art: Nine Small Buildings, currently on show in the Tin Sheds Gallery, offers an insight into the work of Denton Corker Marshall over the last 25 years. The lecture will use these nine projects as an armature to discuss the importance of ideas about art and landscape as starting points for architecture.

Larger projects will be considered as contributions to the architecture of our time – evolving in response to site, context and the intellectual milieu, which we as architects inhabit.

Land Art: Nine Small Buildings features smaller design projects by Denton Corker Marshall, which signify its long interest in compositions that unify architecture and the Australian landscape. Seven local projects feature residential houses set within contrasting landscapes of Victoria. The remaining two showcases current, international projects: the Stonehenge Visitor Centre in the UK (2014) and the new Australian Pavilion in Venice's Giardini della Biennale (2015).
EVENT DETAILS:
Land Art: Nine Small Buildings
Official Launch: 6pm – 7pm
Tin Sheds Gallery, 148 City Rd Darlington, NSW 2008
Followed by a lecture with John Denton
7pm – 8:30pm
LT101, New Law Building, University of Sydney, NSW 2006
This is event is free but there are limited seats available. RSVP here to ensure you don't miss out: johndentonlecture.eventbrite.com.au
2nd Skin
Wunderlich@757 Swanston Street, University of Melbourne
Open until 7 March at 5pm
The 2nd Skin exhibition showcases wearable volumes, deployable envelopes and structures that accommodate the complex geometry of the body.
Designed and made by first year students of the Bachelor of Environments, Virtual Environments subject during Semester 2 of 2013, each project develops techniques of measuring and defining personal spaces through the manipulation of material systems. The projects are modeled digitally and fabricated from a 2d cutting template which is output directly through CNC card or laser cutter. The fabricated components are then hand folded and assembled; fusing digital technology with craft sensibility.
The aim of the project is to render the invisible territories we occupy visible, making the virtual real. Its affect is to make aware the space we occupy; the way we move, the way we inhabit space that is not architectural, but already social, cultural and political in nature. Read all about 2nd Skin →
Award-winning artist Jenna Bloom will bring a dash of art and culture to the Kings Cross strip when she opens her new exhibition, 'Silent Words', at local cafe 5 Boroughs on 12 March.

Winner of the Oxford Art Prize in 2012 and 2013, Jenna's latest solo exhibition features a series of stencil spray paint pieces that reflect the power of communication through body language and specifically hands.

"I'm fascinated by the art of communication. One of my favourite pastimes is to observe body language and interpret what people are trying to communicate without hearing a word they say. I think hands are especially powerful in suggesting emotion and thought," said Jenna.

A Kings Cross local, Jenna said 5 Boroughs was the perfect setting for her third solo exhibition.

"I've spent many hours sitting at the front window of 5 Boroughs people watching the main strip of Kings Cross over a coffee. I love the Cross and the diversity of people and lives within it," she said.

'Silent Words' will be showing from 12 March to 9 April at 5 Boroughs, 97 Darlinghurst Road, Potts Point. The public are invited to attend the exhibition opening on Wednesday, 12 March from 6pm for a night of art and music.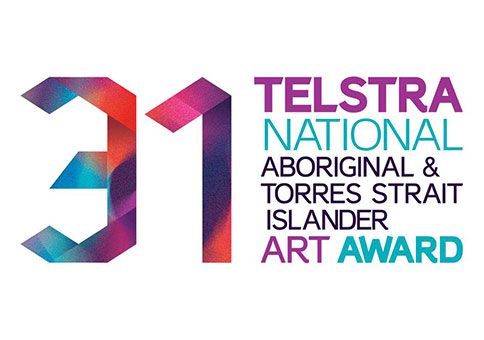 Indigenous artists are being encouraged to enter the 2014 Telstra National Aboriginal and Torres Strait Islander Art Award (NATSIAA) with entries for the country's only national Indigenous art award now open.
The award, which was established by the Museum and Art Gallery of the Northern Territory (MAGNT) in 1984, recognises the important contribution made by Indigenous artists and promotes an appreciation and understanding of the quality and diversity of Aboriginal and Torres Strait Islander art throughout Australia, with support from principal sponsor Telstra.
Lauren Ganley, General Manager for Telstra's Indigenous Directorate, said this year's awards would also include a new category.
"The introduction of the Telstra Youth Award marks an exciting new chapter in the NATSIAA story as we encourage the participation of young artists between the ages of 18 and 25," said Ms Ganley. read all about the Telstra National Aboriginal & Torres Strait Islander Art Award →
Emerging photography artist Peggy Maree Pullen is showcasing her work for the first time at the Gaffa Gallery in Sydney this week, with the opening night on Thursday 6th February.
Peggy has just completed a Diploma of Photo Imaging at CATC Design School and can't wait to now take her artworks and her ambitions into the world, helping both herself and others along the way. Peggy is passionate about raising awareness of issues that matter through her photography; such as depression, body image and domestic violence. A hugely inspirational up-and-coming artist!
Peggy's exhibition, titled 'Religious Undertones' is a series based on her own time in an oppressive religious group. It speaks of the emotions and memories of that time and her journey after leaving.
Peggy explains: "I find it extremely difficult to speak publicly or even in small groups about my emotions and thoughts. I also find it difficult to model or pose for other people, just as I sometimes find it strange to get others to do it for me. But when I am alone in my own space, with in my own thoughts, then I can express exactly what I want, and that is when the magic happens."
Exhibition Details:
06 February – 17 February
RELIGIOUS UNDERTONES
Peggy Pullen
Gaffa Gallery | 281 Clarence Street, Sydney, NSW 2000