Events & Exhibitions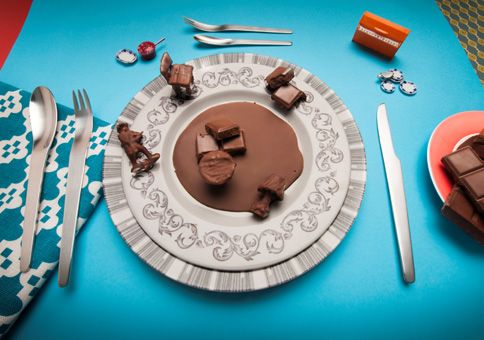 The Powerhouse Museum and some of Sydney's leading creative minds are taking 3-D printing to a delicious new level at the Museum's Eat the Collection after hours program on Thursday 30 May.
Eat the Collection will explore the evolving world of digital fabrication technologies. Ten creative industry professionals, ranging from architects, industrial and graphic designers to artists and sculptors, will be designing a new 3-D object drawing inspiration from one of the most extensive museum collections in Australia. But there's a catch; the designs will be printed in chocolate using a 3-D printer. Read all about Eat the Collection @ The Powerhouse Museum →
Please keep next Thursday the 16th May free for our next pop up show - 'Contemporary Urbanism'. We are excited to have Rachel Kent, Chief Curator of the MCA opening the show.

CONTEMPORARY URBANISM features 7 artists' large scale works in a variety of mediums. Affordably priced between $500-$1500.

Six emerging artists present scenes from the streets, bringing the grit and vibrancy of the city to our pop-up space. The exhibition will feature medium to large scale works, entrenched in urban culture and ripe with humorous undertones. The show casts a spyglass into modern city life.

Artists featured: Thomas Wilcox, Danilo Brandao, Katie Winten, JUMBO, Simon Lovelace, Greg Paton & Rhiana Jade Griffith

Live music by 'Recall' & 'Elwoord Myre and the Wingwalkers'.

Follow the conversation on Twitter #urbanism13

We are delighted to team up for a second time with Mitchell Road Antiques and Westend Estate Wines. Perrier will provide bottled water refreshments. The space will be decorated with floral designs by Octopus's Garden.

Doors open 6pm, Thursday May 16th.

Listen: twitter.com/#!/artpharmacy /// Instagram: instagram.com/artpharmacy
Blog: artpharmacy.com.au/blog /// Buy Art: artpharmacy.com.au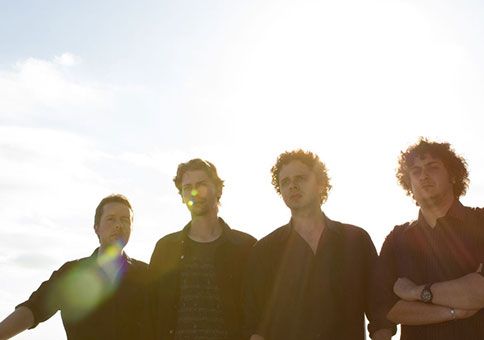 New Wave: Sound will bring the latest in innovative music to the Seymour Centre with a two-day program featuring a forum by music industry luminaries on developing trends in music, as well as the freshest improvised, experimental and electronic sounds.
New Wave: Sound kicks off on Friday June 7 with a forum of leading music curators and creators asking the question "What's hot?" in music, setting the tone for a weekend of sonic exploration.
The forum will be followed by New Wave: Sound – Abstraction & Pathology, featuring three investigations of electro-acoustic composed and improvised music by a trio of Australia's most adventurous composers and and performers: Anthony Pateras, Natasha Anderson and Erkki Veltheim.
Anthony Pateras will feature in all three sets on either piano, prepared piano or analogue electronics. Pateras has rapidly developed an international profile and has twice been nominated for the UNESCO Rostrum of Composers award. He has also achieved recognition in Australia from his work as a composer on the soundtrack of Wolf Creek.
Check more info over at www.seymourcentre.com
I took a few months off. I needed to re-frame what this raffle is to me. My friends noted that if I keep raffling my best work, I would have nothing to show! I understand that but I still need to raffle pieces that people want. Though…what people want, I have no clue! I hope you all find Vines pretty.

Anyone in the world can enter. It is $5 a ticket. Click on here to buy one.

If you'd rather buy tickets in person come into the shop, The Infinite Everything,  Shop 16, The Connection Arcade, 162-172 Church Street, Parramatta.

Any support through buying tickets or even just looking at my work is more than greatly appreciated! It helps me eat vegetables, travel to my job (which I only make what art I sell) and of course buy more art materials.

The winner will be announced Sunday 5 May 2013. I will be posting a video up as always. Have fun, good luck and see you then.
Check out these two awesome events at ABP starting next month!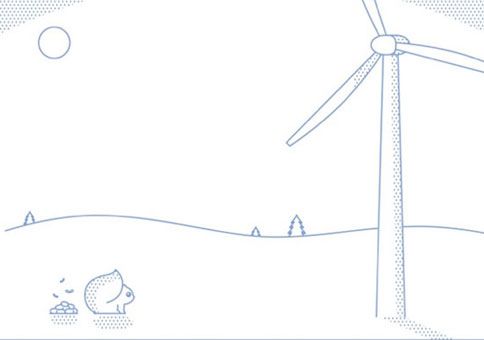 IMAGE: Squirrel, an image from Brickstarter
ABP Agenda: Helsinki Design Lab
2 May, The Open Stage, 757 Swanston Street, University of Melbourne @6pm
Bryan Boyer and Justin W. Cook from Helsinki Design Lab, an initiative of Sitra, are transforming our world through design. Sitra encourages conversations around the concept of strategic design and the 'architecture of problems' and Bryan and Justin join us to discuss two recent and innovative projects which address such issues. The first in Brickstarter, a book from Helsinki Design Lab which looks at how crowdsourcing and crowdfunding could be applied to the built environment. The second is a sustainable urban development project in Helsinki initiated by Sitra called Low2No. Read all about the Events at ABP →
This May Art Pharmacy www.artpharmacy.com.au  is presenting two back-to-back pop-up exhibitions, featuring original work by emerging Australian artists.
Times are tight and so is space. Our first show will display artworks for purchase that are small, sensibly priced and one of a kind. Read all about the Art Pharmacy Exhibitions →
MELBOURNE, 3 April 2013 – The 6th Human Rights Arts & Film Festival (HRAFF) has announced the full program of films, art and forums on offer at the 2013 festival.  The Festival opens in Melbourne on 9 May and then tours nationally to Sydney, Canberra, Perth, Brisbane and Alice Springs.
Intrigue, romance and revolution all come together in HRAFF's hotly anticipated Opening Night film, Alias Ruby Blade.  This action-packed documentary chronicles the tumultuous birth of a new nation in East Timor and the remarkable relationship between, Kirsty Sword, a young Australian activist, and the incarcerated enigmatic leader of the Timorese resistance in Jakarta, Kay Rala "Xanana" Gusmão.  Alias Ruby Blade captures their incredible story and demonstrates the astonishing power of individuals to change the course of history. The Opening Night is proudly presented by Australian Ethical Super and will be followed by a Q&A with Kirsty Sword Gusmão, the films director Alex Meillier , producer Tanya Meillier – the conversation will be facilitated by highly acclaimed Australian director Robert Connolly. Read all about the Human Rights Arts & Film Festival 2013 →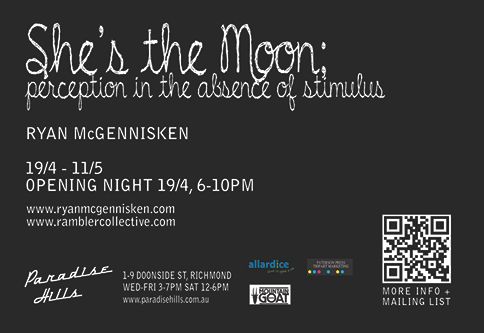 New drawings and installations by Ryan McGennisken.
'She's the Moon; Perception in the absence of stimulus'

In this new stunning body of work, 'She's the moon; Perception in the absence of stimulus', Ryan explores mental illness in women, in particular hallucinations associated with schizophrenia. His drawings describe scenarios of hallucinations that are suspended between ambiguous states of fear and comfort, leaving the viewer to determine the circumstance. After, coming back from a residency in Finland and having a successful show with partner and collaborator Hollie M Kelley in Berlin last year, Ryan's nomadic experiences have propelled his work down a darker and conceptually well rounded path based on his explorations in rural travel and family members that had been diagnosed with mental illness, in particular schizophrenia. His drawings are magical as they are unsettling, full of emotional dichotomies.

Please join the artist on Friday APRIL 19 for the opening of his first Melbourne solo exhibition, which will also include performances by bands EM VÉCUE AQUAIEU, HOUSE OF LAURENCE and HOTEL WRECKING CITY TRADERS and the solo vocal talents of GOLDWYN. Gallery opens at 6pm, music starts at 7pm.