Design Federation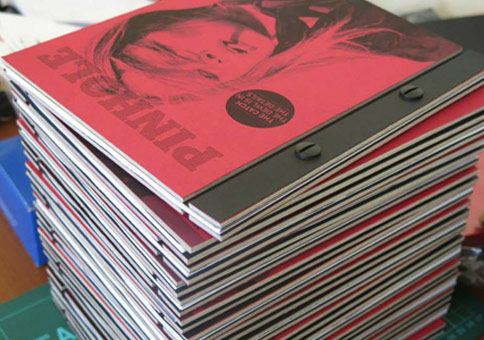 The latest version of Pinhole (Vol. 03) is finally out. Titled The Catch, the zine's aim is to ".. explore the dark side of a good thing and vice versa. So what is the catch for you? In this edition of Pinhole we have captured the creative and artistic interpretations of 'The Catch' through pinhole photography, illustrations and stories designed to seduce and surprise you."
Our Very own Estelle Pigot and James Bourbon (Trinidad to his friends) also have a wonderful work featured in this edition, so what are you waiting for? Grab a copy today from the Pinhole Website
Pinhole is a Sydney based collaborative project between like-minded friends exploring our intentions, artistic experimentations and sharing our experiences. We come from a mix background within the creative industry but at the heart of it all – we are story tellers. To us, stories illustrate matters and show possibilities on any subject matter. Which is why we want to know your story and just like a pinhole camera – capture what your eye sees, write what's on your mind, draw what's in your heart. Capturing different perspectives on everyday life.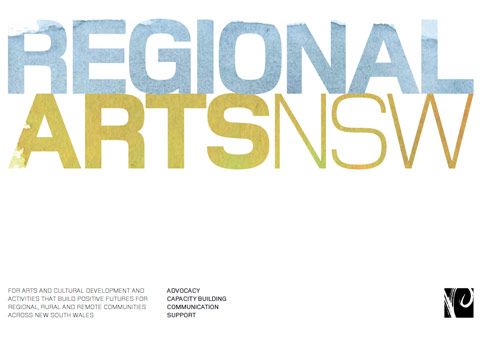 Happy New year to everyone, and with out first post of the new year we wish to congratulate one of our own, the wonderfully marvelously amazing Estelle Pigot who is now working at Regional Arts NSW. (Effing Sweet!). As you might not be aware (I wasn't) RANSW is a non-profit which operates with funding allocated to it by the State and Federal governments. So next time you want to travel all over the virtual country side without the Leyland Brothers – check out regionalartsnsw.com.au or the Regional Arts NSW Twitter
What is Regional Arts NSW?

Regional Arts NSW is the peak body for regional arts activity in NSW.

Based in Sydney, it provides a range of services and represents a state-wide network of Regional Arts Boards (RABs) in the key areas of:

Advocacy
Capacity building
Communications
Support

The Chair and CEO of Regional Arts NSW represent the state on the board of the national body, Regional Arts Australia.

Regional Arts NSW is non-profit organisation with its Board made up of representatives of the Regional Arts Boards (RABs) plus up to five co-opted Directors. It receives funding to deliver its projects from the NSW Government through Arts NSW and the Australian Government through the Regional Arts Fund.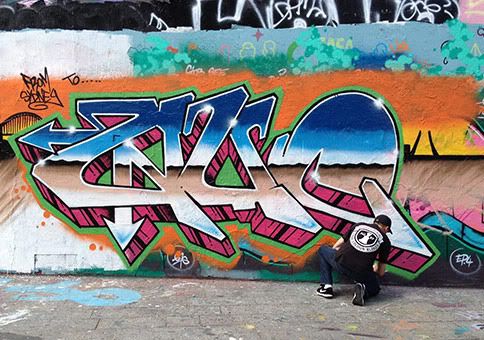 Here at Design Federation, we've always supported graf and street art but it's not often we get news from that city of high art – Paris. Our foreign correspondent Paul Imseih is based in Paris and has filed this report: Read the rest of Pauls Review from the Streets of Paris →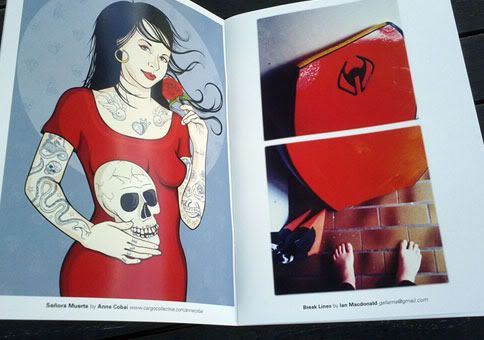 PSSSSSST…. Our first ever little bundle of love, the Design Federation zine D'Zine – The Future Issue is finally here!!
"The Future Issue" asked creatives to express their ideas on the theme Creativity & Technology. The result is 22 pages of quirky storytelling, passionate rants, artist insights,  photography, illustration and awesome design from our dearly beloved Friends of the Federation.
Unlike other zines we had this one professionally printed with help from our good friends at..**insert 'Estelle's wallet' here**..oh that's right, no printer is our good friend ;(
LOLCOPTERTRUCKCARBIKE!@$%%#&*
So what are you waiting for … BUY ONE!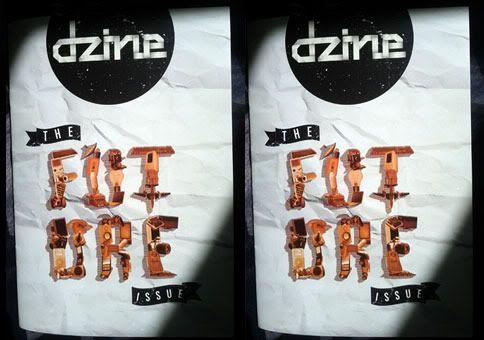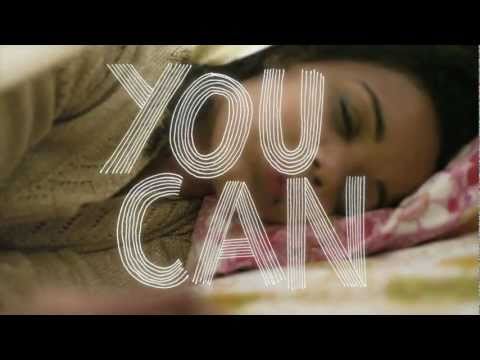 Design Federation has always been a big supporter of Australian talent, and as many of us listen to music when we design, and after seeing their beautifully embossed and die cut cd cover with pull outs, we thought getting behind Skipping Girl Vinegar was the right thing to do, so over the next few weeks to coincide with their tour "Chase the Sun" we will be giving you a vinaigrette of their goodness. 
Immediately picked up for rotation on triple j, You Can was written after some sage advice from music veteran Ben Harper. He encouraged the band to continue on their search to explore outside of what they knew when facing the challenges of making a second album. Harper's advice  "Don't be afraid to limp in public" inspired the collective to continue pushing the boundaries of what they had uncovered on their debut into the unknown. Beginning with Mark Lang's haunting vocals before reaching a crescendo of atmospheric strings, You Can looks to the search for the cracks of light in heavy shadows of modern life. 
Airing Out Your Dirty Laundry By Jack Douglas Preview
'Airing out Your Dirty Laundry' is about the steady decline in the living standards of our supposed modern society. People are given handouts that fuel their drug and alcohol problems, which then fuels the anti social behaviour that is continuously being pushed out of the minds of the common people by the media and by our own ignorance.
Opening night the 23rd June from 6-9pm @ No Vacancy Project Space
The exhibition runs from the 21st-26th of June
DESIGN FEDERATION IS PLEASED TO PROMOTE A POCKET-SIZED PACKAGE THAT PACKS QUITE A PUNCH
Design Federation is keen to announce the launch of our very own zine. Ziiiiiiiiiiiiiiiiiiiiiiiiiiiiiiine!  Zingly exciting, isn't it?
D'Zine will be kicking off in the twilight hours of this financial year, just in time for us all to flit off on holidays to undisclosed exotic tax havens.  
ONLY KIDDING, what's a holiday?  No rest for the wicked when we are putting together amazingly small but bursting at the seams awesomeness in an A5 pocket-sized package of love. Oh readers, how we dream of ways to make you love us the way we love you.
There will be 3 (THREE!) issues released this year and many more to come we hope. But not without the talents of our good Friends of the Federation. Yes, we need the help of your good selves so send us your illustrations, photographs, designs, short stories, poems and articles so we can print them and put your name in lights.
Issue 1's theme is TECHNOLOGY & CREATIVITY. 
Think Da Vinci, think Gutenberg press, think Derwent Pencils, think Lomo,  think carbonic paper, think Hipstamatic…  Or don't think and just do.  We want your pretties, my pretties.
To be considered, please send us your creations before May 30th 2011 to zine@designfederation.net
Writing: no longer than 500 words.
Images: please send in pdf format (A5).
Any questions or queries, email us at zine@designfederation.net
So while everyone else in Sydney was either still in bed after a rather big Saturday or sunbaking in this glorious weather, Design Federation was representing in downtown Redfern at the Fbi Radio studios.
No rest for the wicked; we were shamelessly plugging ourselves on the Sunday morning arts program, Canvas. We gave a big shout-out to the amazing artists who contributed to The Federation Annual and sent out a national reminder to come on down to our book launch at The Art Lounge on Thursday night 7pm.
Click below to listen to Estelle's interview with Nell Greco on Canvas.

If the audio doesnt work for you, please try refreshing your browser (F5) or you can click to a direct link to the podcast
For more of FBI 94.5 Radio click on www.fbiradio.com