As a preface, click the image below to read this article from the Sunday Telegrapahs May 18th edition.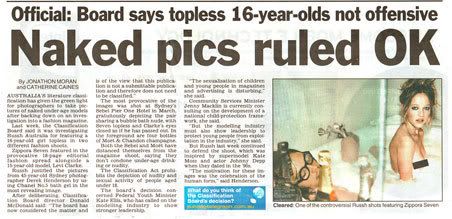 What a week(end) it has been for the art community in Australia. We haven't had this much publicity since Ken Done was declared bankrupt, and all for the wrong reasons. It all started when what promised to be rather low key affair at the Roslyn Oxley Gallery, instead turned into the mother of all publicity juntas.
An Artist that (quite sadly) the general public would know next to nothing about (Internationally renowned Photographer Bill Henson) has turned into Australia's answer to Guillermo Habacuc Vargas because of his latest photographic exhibition. Now the previous article on this site by Sy Rogers has created some excellent articulate discussion for both sides of the argument, but I wanted to come at this from a different angle.
Why is this
a) Getting so much media coverage and yet when the federal police(not local police) closed down a photographic exhibition in Leichardt about Palestine it barely rated a mention?
And
b) It was only last week we had a 16 year old girl topless in an advertisement and again it only rated 1 article and no furore.
You dont have to be blind to see the ad (above) is quite clearly sexual. We have a 16 year old topless girl and a 15 year old boy lying in a bubble bath surrounded by bottles of alcohol and according to the article the classification act prohibits nudity and sexual activity of people aged under 18.
So we have Bill Henson's photographs that probably would have been seen by maybe a few hundred people deemed offensive, yet an ad seen by potentially millions is said to be ok.
In any case, where the hell is Peter Garret in all this? Is he even still alive? Because as an Arts minister he's doing a fantastic impersonation of Nathan Browns Coaching Style, ie not much.
- David Goldberg