Author Archive
Join Ken Garland (UK), Rob Giampietro (US), Mark Gowing, Michaela Webb, Dan Pike and Peter Hall for the upcoming Responsive Projects forum, to be held in Brisbane on Thursday April 11. The forum will combine lectures with productive, critical discussion between speakers, facilitators and audience, all addressing this theme Identity.
More information and ticket details can be found on their website: responsiveprojects.com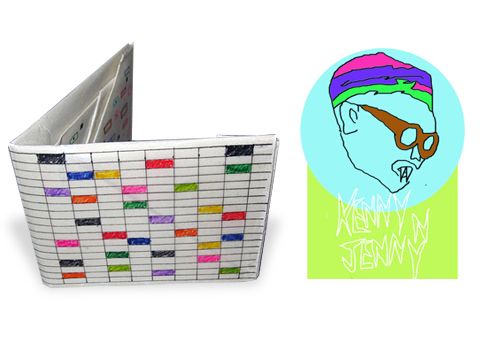 Friend of the Federation, Jazzmine Lorraine Evans (going under the name of Kenny N Jenny) who featured in the Design Federation Annual has been a busy girl whilst chilling over in London with some hilarious handmade cards for various occassions plus she's just released a bunch of paper wallets which can all be purchased on her Etsy Store plus check out what shes been up to on her Blog.
You are invited to our Industry only preview
Vol No.1 – Personality Portfolio | Billy Blue College of Design Exhibition Featuring Communication Design and Digital Media Graduates

Join us for lunch on Wednesday 29th June, 12pm-2pm
Global Gallery 5 Comber Street Paddington NSW
RSVP ESSENTIAL by 24th June: www.billyblue.edu.au/rsvp
If you can't make it to the Industry only Lunch, please join us for the public event on Friday 1st July 2011: Find out more via our facebook event page
The Billy Blue Exhibition: 'Vol No.1 – Personality Portfolio' is the first in a series of two exhibitions for 2011. In this exhibition we invite industry to experience an interview narrative that introduces our students.
This is not your typical, portfolio only Graduate Exhibition.
Brisbane designer and illustrator Ken Smith aka Stuffee has a great range of work, you should definitely check it out. He is currently accepting commissions!
So I'm not exactly sure where Trunk Junk popped up from but it's just amazing. Great content, great artwork, great design and photography … all round it's a top publication. 100 pages of surf,skate, snow, wake, art, design, photography, film and music is in one of 798 stores across NSW, VIC and QLD waiting for you to pick it up! If you can't find it anywhere in store your best bet is to purchase it online while you still can. The magazine features some awesome artists including James Jirat Patradoon and comes with a couple free stickers and an awesome large landscape print by Monaux.
It's almost that time of year when a moustache is even more classy! I certainly know how you designers love your facial hair so why not support a great cause and be apart of Movember this year. Money raised goes toward Movember's men's health partners, the Prostate Cancer Foundation of Australia and beyondblue – the national depression initiative and the Movember Foundation.
This year the Sydney Bicycle Film Festival brings together all aspects of bicycling to advocate its ability to transport us in many ways. With an amazing program of films and a bike basket full of art and cultural events, this year's festival is going to be unreal!
Whether you're a BMX bandit or a fixie riding hipster this is surely an event not to be missed running from the 17th to 21st of November !