Author Archive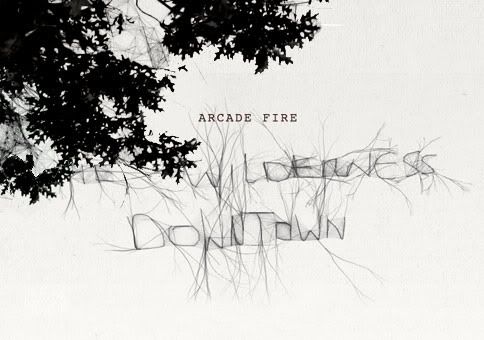 An interactive film/music video by Chris Milk: Featuring "We Used To Wait" by Arcade Fire
This site was designed with Google Chrome in mind and is built in HTML5. It utilises Google street view and merges the street where you used to live with an Arcade Fire music video. Reminds me of arty websites 15 years ago with the little popup windows. Pretty damn cool.
Australia's most well known graphic designer made a fleeting two day visit to Brisbane and the Gold Coast last week to talk to staff, students and alumni of the Queensland College of Art.
Ken gave seminar presentations at the Griffith University South Bank campus and the Sheraton Mirage on the Gold Coast where he spoke about his work, the AGIdeas conference and the future of design.
He also expressed his disappointment at the practise of free pitching within the design industry and praised the potential of cross-cultural design as a way to 'do design differently'. He also raved about his clients and described them as creative colleagues.
The two day series of events were organised by Griffith Enterprise, in conjunction with the QCA and offered up opportunities for the students to network with the design industry and showcase their work in a variety of forums, as well as giving a range of designers the chance to hear Ken speak.
Photo by Camille Santiago www.camille-nathania.com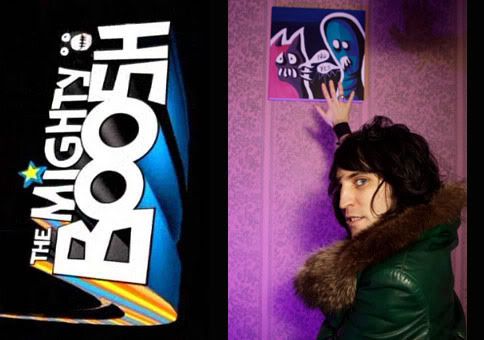 Fans of the Mighty Boosh, and Noel Fielding in particular, might be curious to hear about an exhibition of his art works that opened recently—in a Soho patisserie, of all places.
The artist and comedian paid homage to singer Bryan Ferry with some of his paintings in a series sub-titled "Bryan Ferry vs. Jelly Fox" and handed out Ferry masks to the first 100 visitors to the exhibition. He also played badminton in the street outside and was seen sporting a variety of outfits and pancake face makeup.
Whatever he's on, I want some.
The paintings themselves are quite interesting. Very bright, quirky, bold and I would imagine quite saleable. The works are available for purchase through his art dealer and I imagine they will sell like hotcakes—or maybe just cakes? They are in a patisserie after all.
Visit his agent's website: Hooligan Art Dealer
If you're like me, the prospect of having to sit through one more PowerPoint presentation makes me want to gnaw my own arm off. Most people use PowerPoint because it's the default standard and if you plan to give a presentation on an unknown computer you tend to stick with it for safety's sake. As a result, we see the same boring slides, with the same boring transitions over and over again, and people are encouraged to commit the ultimate presentation sin by PowerPoint—they read from their slides—because it does nothing other than list words. Read the rest of Death to PowerPoint →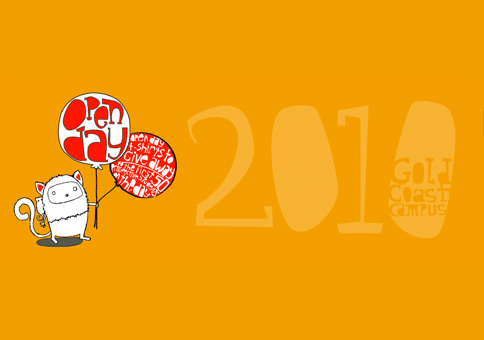 Griffith University Gold Coast invites you to its annual Open Day on 8 August 2010.
For art and design students, the Queensland College of Art (QCA) will be hosting activities ranging from student exhibitions, information sessions, graffiti art demonstrations and 3D sculpture making. Read all about Griffith University Gold Coast: Open Day →
I trooped off with yet another group of students this year to see the Brisbane Semi-Permanent extravaganza. Unlike Sydney's two-day speaker fest, we only get one day up here, but boy are we grateful for this one day. They've been running in Brisbane for three years now and every year is the same, a depressing, inspiring wealth of knowledge delivered to a concert hall full of eager students and teachers. Everybody is welcome of course, but let's face it, on a Friday, all you're ever going to get is university students. Read the rest of Dominiques reivew of the Brisbane SP →
For several years now, Scott Belsky has built an empire around organising creativity. His Behance network is a website that showcases illustrators and designers work and receives millions of visitors a month. He's also developed the Action Method, which is an online/mobile productivity system with a line of supporting paper products and on top of that, he's also started the 99% which is a website and series of think tanks / conferences similar to TED, devoted to creativity and production. Read the rest of the Making Ideas Happen review →
Echoing Green has awarded start-up capital to hugely successful nonprofit organizations such as Teach for America, City Year, and the Freelancer's Union. In the 99% talk on the99percent.com, Echoing Green President Cheryl Dorsey outlines the traits and skills that have defined their most successful social entrepreneurs in a new behavioral model called SEQ, or "social entrepreneurial intelligence."
Speaker Cheryl Dorsey is an accomplished social entrepreneur with expertise in health care, labor issues, and public policy, Cheryl Dorsey was named President of Echoing Green in May 2002. She is the first Echoing Green Fellow to lead this global nonprofit, which has awarded more than $27 million in start-up capital to over 450 social entrepreneurs worldwide since 1987.